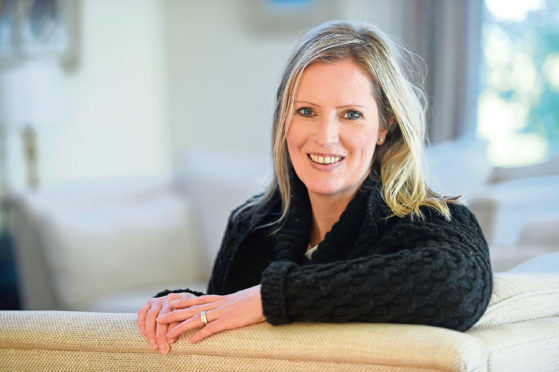 Thanks to the incredible sunny weather of late, Nick is delighted to have his first-cut silage in and covered.
He has also reseeded two fields with new grass to rejuvenate the pasture, which have already shot up on account of the unexpectedly long settled period.
And it isn't just the crops that the amazing sunshine has had an impact on – ice cream sales have rocketed in the past six weeks.
We have been restocking the huge ice cream freezer in the honesty shop at least twice a day and often three times, seven days a week.
A fortnight ago, demand was so high both here on the farm and from our trade customers that we had almost sold out by the Sunday night.
Clearly it's been a record start to the ice cream season, greatly helped by the addition of two new trade clients in high footfall destinations, namely the Caledonian Canal Centre in Fort Augustus and Mac and Wild at Falls of Shin.
Both venues are newly opened and again, thanks to the weather, both have placed repeat orders.
Rosie and the team are working flat out to keep the freezers and fridges stocked and to help them keep cool in the soaring temperatures. Nick has costed and is now awaiting the installation of an air conditioning unit in the processing kitchen.
Thankfully, the new bulk tank (mentioned back in April) is finally up and running, which means the team is no longer restricted to producing ice cream, yoghurt or bottled milk, from a 60-litre batch of pasteurised milk.
An engineer from Manchester came up to connect the 1,000-litre capacity tank to the processing kitchen via a pasteurising pipe – a three-day job, which I only learned about when Nick informed me, over breakfast on the day of the engineer's arrival, that he would need accommodation.
This isn't quite as bad as it sounds because we are fortunate to have a small granny flat at the back of the farmhouse.
Previously we have rented it to friends, lived in it ourselves for a spell and latterly, Nick has used it for meetings and storage.
After a power-clean, a quick raid of the cupboard for spare linen and pillows, then stocking the fridge with some essentials – milk, eggs, yoghurt, ice cream and sausages from a few steps away – the flat was good to go.
While I was in there, it reminded me of a friend's suggestion to do Air B+B with it. The flat itself is light and inviting but I never thought that its aspect was quite nice enough to market it as a holiday-let.
It looks directly onto the farm, or more accurately, a wall containing a sort of collecting yard for the cows in the top shed. However, if you're sitting down inside the flat, you can actually see Ben Wyvis above the wall.
As the time draws ever closer for Mollie to start preschool, I'm now starting to think about alternative work opportunities for the hours she'll not be with me.
Air B+B might be a possibility and once I complete my social media training, I should be able to take on more of a marketing role within the dairy processing side of the business. And I still have ambitions to create artisan soap using our milk.
For the first time since Daisy was born, I feel more confident that I might have something to offer the world of work. Being surrounded by enterprising people inspires me.
A neighbour across the field has not long started a nail art and reiki business, while two mums at school have recently started working for themselves.
Talented friend Lorna designs bespoke displays and decorations for weddings, events and retail through her business Magpie Creative, and Lina, who lives on the farm and works part-time in the processing unit, sells her home-grown plants from outside the honesty shop and via a local Buy, Swap, Sell site. And hardworking farmer's wife and lovely friend Gwen has a firewood business as well as offering contract artificial insemination.
Despite the scattered make-up of our rural community – probably because of it – there seems to be a lot of opportunities in the countryside.
Aberdeen dairy farmers visited Rootfield recently to pick Nick's brains about setting up their own ice cream parlour, a shop and small café. The Willis family already has a successful milk vending machine, located on the main road into Aberdeen, which Nick in turn picked their brains about, and they want to expand their operation.
It's great to see this type of knowledge sharing and to hear the success stories of others diversifying in dairying.
Elsewhere on the farm, Nick and Scott have been building up three calf hutches to help improve calf health. Just now they live in a dedicated section of pens on one side of the top shed but there have been too many cases of pneumonia. Nick thinks this is possibly due to insufficient air flow or as a result of sharing air space with the adult cows.
Accommodating four to six calves, the new arch-roofed plastic hutches offer insulated warmth and protection from the elements and will be sited away from the other cows.
Nick and Scott will also construct outside pens to attach to the hutch entrances.
Last but not least, Daisy announced that she will be singing at the leavers' assembly this year. She practices for us at dinner each night and every time it brings a tear to my eye.
Heaven knows what I'll be like when she is the one leaving school.
NEXT MONTH: holiday season. Rootfield Farm is on the Black Isle, 10 miles north of Inverness, where Jo lives with husband Nick, a fourth-generation dairy farmer, their daughters Daisy and Mollie, and 150 cows.