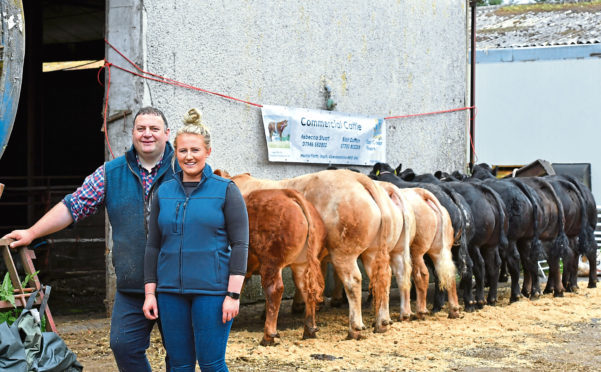 A pair of well-known faces on the agricultural show circuit is preparing to take a team of 10 commercial cattle to the Royal Highland Show next week.
Blair Duffton and Rebecca Stuart, who have been showing cattle together since 2012, are no strangers to success having won several interbreed and overall champion of championship prizes at shows across Scotland, England and Wales.
In 2015 they stormed the north-east show circuit with a Limousin cross heifer named Lady Moo Moo, followed by another Limousin cross heifer named You Beauty in 2016, and Charolais cross heifer Gold Rush in 2017.
The duo are hoping to add the Royal Highland commercial cattle championship to their prize tally next week, when they bring a team of three bullocks and seven heifers to Ingliston.
Mr Duffton, who lives in Huntly and works as a livestock buyer for Backmuir Livestock Ltd, says the Highland championship is the one prize he is yet to win.
He says showing cattle is his hobby and he enjoys nothing better than getting a beast ready for a show and seeing how it fares against its competitors.
Ms Stuart, who hails from Murrial Farm near Insch and works as a trainee ruminant nutritionist at East Coast Viners, says her favourite part of the whole process is getting cattle ready for the show ring.
She says shows offer the chance to meet new people and there is always a buzz about the show ring.
Mr Duffton says he has high hopes for all of the cattle in the show team, however favourites include a "really showy " heifer named Baby Jane.
A Limousin cross heifer, she was bought from the Robertsons at Newton of Logierait, Pitlochry, for £2,000 at last year's Thainstone Spectacular.
Another favourite is a Limousin cross heifer named Shaniqua, which despite being rejected by her three previous owners, was purchased by the duo for £1,500 because they say potential in her.
Among the line-up of bullocks, a Limousin cross named Buster is expected to perform well this season.
Purchased at the Thainstone show and sale of spring-born calves for £1,600 in October last year, he was bred at Dunmaglass Estate near Inverness.
Meanwhile, Mr Duffton says a Charolais cross heifer named Gold Dust, which was purchased in Ireland for 2,000 euros, is very similar to last year's show topper Gold Rush.
Mr Duffton and Ms Stuart say their success is down to the hard work of a dedicated show team – which includes Debbie Watt, Steven Smith and Deborah Atkinson – and hours of preparation halter-training the cattle.
"The first thing is to buy the beast; you see something you like and you buy it," said Mr Duffton.
"It has to be a classy, showy animal with a good top on it and it has to be good on its four legs.
"It needs to walk like a princess – a show beast should walk with its head up."
Thereafter nutrition and training the cattle comes next.
"You then need to get them on proper feed," said Mr Duffton.
"Ours are fed on East Coast Viners show cattle mix. They are fed that from day one and it's been a secret weapon."
He said the next stage is breaking the cattle in and teaching them to walk on a halter and stand a certain way – not an easy task when the heaviest members of the show team weigh 600kg.
On their showing highlights, the pair say winning both the Aberdeen Christmas Classic and the Welsh Winter Fair on the same day in 2016 was a proud moment.
They became the first Scottish winners of the supreme champion title at the Welsh event with a Limousin cross bullock named Tip Top.
Bred by Colin Phillips from Hereford and bought in Brecon for £2,300, he went on to sell for £4,000.
The Aberdeen Christmas Classic champion was a Limousin cross heifer named Oucha Baby.
Bred by Greaham Henderson at Murrayfield, Caithness, and purchased for 5,100gn at the Royal Northern Spring Show earlier that year, she sold for £4,000.
On future plans, Mr Duffton says he plans to continue showing cattle with Ms Stuart, with the hope of winning more rosettes including the coveted Highland Show championship.
All eyes will be on Ingliston next week when Elgin farmer Andrew Anderson, of Plewlands, Duffus, casts his eye over the commercial cattle entries from across Scotland and further afield.