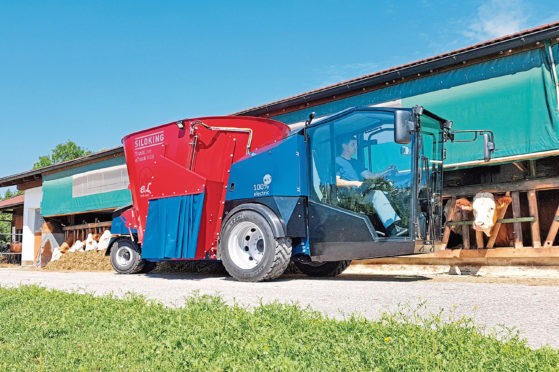 Place a bet on which new machines will grab the headlines after the Royal Highland Show and a new self-propelled diet feeder from Kverneland should be a safe enough punt.
It's a small machine, dishing out rations from a 10cu m or 14cu m tub, and its rear wheel steering is a bit unusual.
But the thing that really marks out the Siloking eTruck from other diet mixer-feeders is its all-electric powertrain.
Low running costs, quiet operation and zero emissions at source are the main attractions.
The battery package is reckoned to have sufficient reserves to make up to five batches a day on the 10cu m version, and the lack of a diesel engine cuts service and maintenance costs and time.
Meanwhile, drills operated in combination with a power harrow remain more popular in Scotland than anywhere else in the UK, so Amazone's new Centaya should attract attention from growers.
The 3m implement's 1,600- or 2,000-litre hopper is made of plastic to reduce weight and the seed distribution head is positioned further forward to reduce the effort needed to lift it.
Grouping all controls together with the TwinTerminal display promises simpler calibration; the electrically-driven metering rollers are said to be easier to get at.
And short pipe runs from the seed head should help in terms of seed spacing consistency.
The drill can also operate with AutoPoint sensors to time seeding stop and start accurately to prevent double drilling when arriving at or leaving the headland.
Multiple sowing is a feature of the latest trailed Sky MaxiDrill from Opico.
It's designed for versatility to work into mintill seedbeds as well as ploughed and prepared land.
Fertisem combi versions have separate seed and fertiliser metering and placement, and a third product – such as slug pellets – can be dispensed through a third metering unit to either of the other two.
The largest coulter stagger for good sticky soil and trash clearance is claimed, and the re-designed cultivating discs have sealed hubs and rubber shock absorber mountings for stone protection.
A residue-bashing and slug-busting cultivator from Spaldings will also make its first appearance.
The trailed Geacut 600 comprises three serrated rollers with full-width replaceable blades, weighing in at 5,210kg but capable of running at 7,020kg with a full complement of water ballast.
Lastly, many years' experience building pick-up forage wagons has helped Pöttinger with the design of its first round balers – and now also baler-wrapper combinations.
The fixed chamber Impress 125 FC comes with a 16- or 32-knife crop slicing rotor and retractable double-sided blades that slide out in a cassette for sharpening or replacement.
Bale formation is supported by two bottom rollers and two rollers above the intake to get material tumbling to form the core before three tensioned belts regulate bale size and density.
The finished package is netted and transferred to the twin orbital wrapper.
Krone will show its new RX forage wagon, which can feature a pivoting bulkhead to help pack more forage into the body whether picking up from a swath or filling from a forage harvester.
This feature – which was previously the preserve of Lely Tigo wagons, now supplied as Fendt products – can also give heavy loads a helpful push when unloading with the chain and slat conveyor.