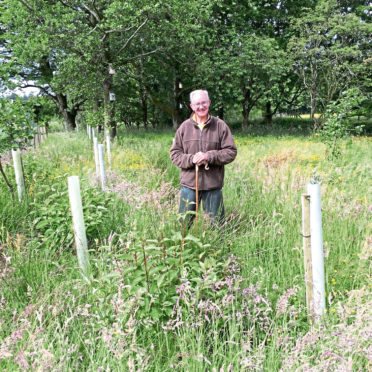 Future rural policy should put the environment and other public goods at the heart of farming and land management.
That is the plea of the Nature Friendly Farming Network (NFFN) – a new farmer-led steering group launched at the Highland Show. The group is calling for a change to rural policy that supports and rewards farmers and crofters for providing public goods, such as abundant wildlife and healthy ecosystems. And it claims there is "substantial support" from the public.
Group chairman Michael Clarke, who farms at Williamwood Farm, near Lockerbie, said: "With Brexit, we are in a period of great change and uncertainty. Regardless of the outcome, Scotland needs to create a long-term, stable policy framework that will drive a mainstream shift towards a sustainable, productive, nature-friendly future for farming as well as protecting the landscape."
He said many farmers were already using nature-friendly farming practices, but this needed to be scaled up rapidly with strong policy support in a bid to halt the decline in wildlife and soil quality.
"Post-Brexit, agricultural policies need to help farmers produce high-quality food at the same time as helping our soil, landscapes and wildlife recover and flourish," added Mr Clarke.
"Among other things this means that farming payments need to be continued and redirected towards mainstreaming nature-friendly farming.
"The NFFN wants this, not just because the farmers care about nature, but because they firmly believe that a more nature-friendly approach will be key to the long-term survival and success of farming in Scotland."
Shetland crofter Hazel Mackenzie, of Aithsetter, Cunningsburgh, a member of the group, said: "Nature-friendly farming is a way of life and a commitment to valuing the land that we live in. By coming together as a group and a network, we can be heard with one voice."
More information is online at www.nffn.org.uk.