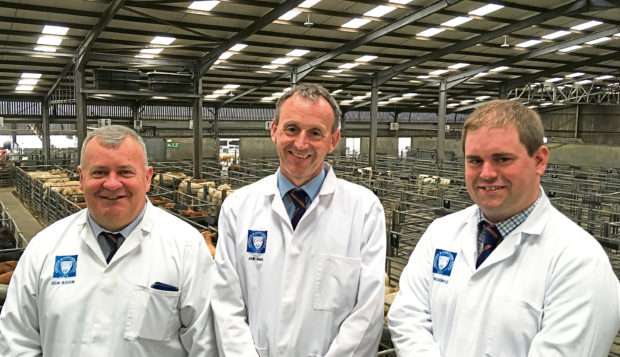 Sales of breeding stock have been boosted by the good weather and quick grass growth, according to Aberdeen and Northern Marts (ANM).
The company's head of livestock, John Angus, said the average price for heifers with calves at foot was up £150 on the start of the May breeding stock sales and £350 higher than last year.
He said the strong trade experienced in recent weeks suggested confidence was returning to the beef industry with herds replacing breeding stock on the back of "buoyant prices" for store cattle.
"The prospects for the beef market for the second half of the year are looking good, but there are real concerns about the rising cost of fodder and straw due to the diversion of distillery co-products into the energy market and the switch to ryegrass on some farms to feed anaerobic digesters," added Mr Angus.
"We could do with some rain to make sure silage crops bulk up although some farmers have been cutting grass early for silage out of fear of grass burning up."
ANM prime and cull cattle manager Tim McDonald said the steady trade for prime cattle was likely to continue and perhaps strengthen.
He said: "The cull cow market has shown a big lift since April when farmers were too busy trying to catch up with drilling and the late spring.
"Demand for good, fleshy cows for the processing market is particularly strong and we have seen prices hit a top of £1,830." He said dairy farmers should consider feeding cull dairy cows, rather than marketing them lean at the end of lactation.
Meanwhile, ANM deputy livestock manager Colin Slessor said a "phenomenal market" for old season lamb was experienced throughout the spring with prices peaking at an average of £126.21 a head on April 5. He said: "The strongly rising market saw the auction ring come into its own as prices increased week after week.
"Those hoggs will have been bought in the trough of last autumn's store trade when prices were down £5 a head on the year. Finishers have enjoyed the double benefit of a lower purchase price and a high sale price which will have boosted margins and should augur well for this year's autumn store lamb sales."
Mr Slessor said this season's prime lamb market had started off on a high with some lambs achieving as much as £140 a head – an upward trend being enjoyed in the cull ewe market as well. He said market prospects were encouraging and the auction system would be vital in ensuring producers achieved the best price available. He added: "The strong prime market will hopefully impact positively on store markets which were in the doldrums last autumn. Lamb producers in the Highlands and islands certainly need a lift in price to give them a much needed boost following last year's disappointing autumn trade."
He predicted strong trade and demand for gimmers on the back of more ewe lambs being culled this year.