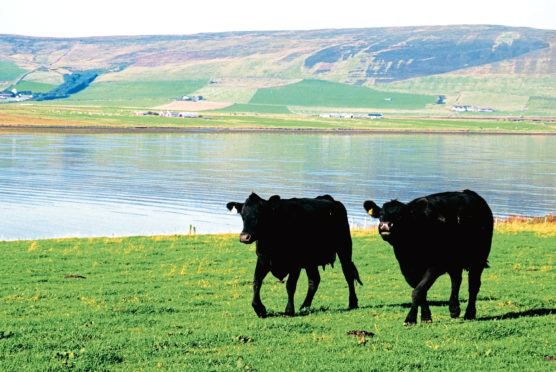 Beef and sheep producers have been told to plan ahead for winter forage and straw supplies to avoid any nasty surprises.
Harbro's technical lead, Nick Canning, said the current dry spell would not only affect farmers now but throughout the winter as well.
He urged producers to work out what feed they needed for the winter, assess what they have available and address any shortfalls.
"The big thing people need to do is take account of their own stock and forage requirements to get them through to the start of the next grazing season," said Mr Canning.
He said assuming a full silage pit would see a farm through the winter would not work and getting silage tested for Dry Matter content was vital because this would determine its nutritional content for livestock.
Once producers have worked out their winter forage requirement, they should consider alternatives such as using woodchip or sawdust for bedding and keeping straw for feeding, once it has been ammonia-treated, added Mr Canning.
He said another option is whole-cropping barley, rather than selling it off the field, and supplementation where necessary. Producers who previously relied on draff would find it difficult to obtain and the same would be true for potatoes and vegetables, which are likely to be in short supply.
"We really cannot go into the season hoping we have a late back end and an early spring," added Mr Canning. "We might be alright but if we are not there's very little options."
In the short-term, he advised creep feeding calves and lambs and to consider weaning them early.
This was echoed by Karen Stewart from SAC Consulting, who said breeding stock should be given priority access to grass.
She said: "Because of the shortage of silage, there is a tendency to shut up fields for a second cut, but don't penalise growing animals in order to do this. You should try to get them as heavy as possible by autumn and don't keep unproductive stock.
"Don't graze grass too hard to ensure it gets a chance to grow back. Try some simple rotation grazing. For example, if you've got cows in one field and ewes in another, put them in together and give the other field a week or two to recover before you graze it and rest the other field."
Looking ahead Ms Stewart said producers should look into growing stubble turnips to allow early winter grazing of cattle before they are housed.
The plea to plan ahead comes the same week NFU Scotland launched its #NFUSHowDoYouPlan campaign. It urges producers to plan ahead, be flexible and to collaborate.
In a blog on the union's website, vice-president, Martin Kennedy, said: "This is going to be a year where everyone in the whole industry can play a part in trying to avert something that may have an irreversible impact on Scotland's rural economy."