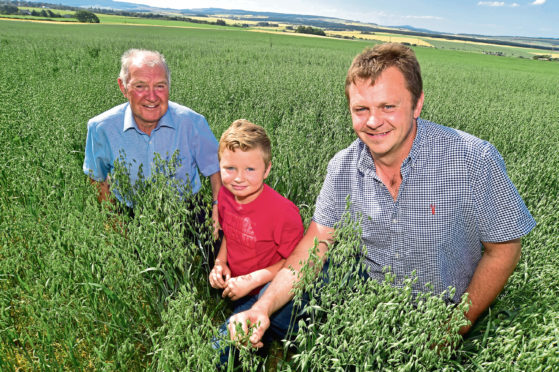 A 22-acre block of Aspen spring oats has been crowned cream of the crop in the Royal Northern Agricultural Society's annual growing cereals competition.
The competition attracted entries from 64 crops from 29 farms across the north and north-east of Scotland.
The overall champion, as judged by Scott Milne from BASF, was an entry from the Webster family at Loanhead Farm, Cornhill, Banff.
Ian Webster, who runs the 900-acre arable enterpise with his parents Willie and Frances, said he was delighted to win the competition as it was only his second time entering.
Commenting on his winning crop, he said: "It's looking really well and really green. After the dry weather we've had, it's a good surprise."
And when asked what his secret to success was, he said "due care and attention".
Reserve overall in the competition was a crop of Tower winter barley from the Middleton family at Balbegno, Fettercairn.
Meanwhile, the prize for the best crop of winter wheat was awarded for a block of Claire from Alex Reid at Mill of Haulkerton, Laurencekirk.
The best spring malting barley prize went to Stephen Allardyce for his entry of Concerto from Easttown, Tarland.
He also received the prize for the best Less Favoured Area (LFA) crop.
The prize for the best entry in the feed barley section went to a field of Laureate from D & A Grant, of Skillymarno, Strichen.
Lastly the prize for the best crop from an entrant under the age of 30 goes to a field of Canyon spring oats from Iain Wilson of Tulloch Farms, Laurencekirk.