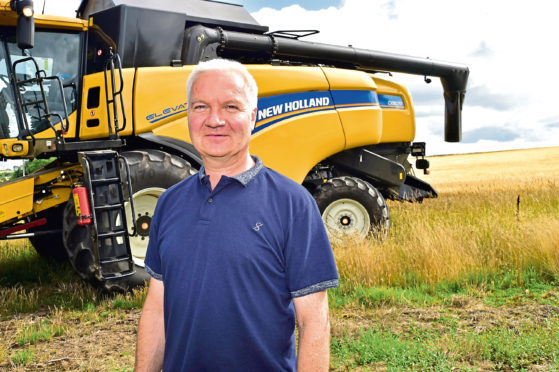 A block of Bazooka winter barley has been crowned cream of the crop in this year's Turriff Show cereals competition.
The task of judging the annual contest was given to Alastair Aitken from Deeside company FMC Agro Ltd.
He selected the leader from the winter barley section as his overall competition winner.
This was a 43-acre block of Bazooka entered by Brian Pirie, who farms 750 acres at Castle of Auchry, Cuminestown.
Mr Pirie – a previous competition winner – said the hybrid winter barley variety had performed well when it went through the combine.
The average yield for the field was 3.85 tonnes per acre and an average bushel weight of 70.2kg was achieved.
Mr Pirie said: "It went in the ground in difficult conditions at the end of last year but it weighed very well."
He said he wasn't sure how his other crops -mainly spring barley and oilseed rape – would perform as they had been hit by the prolonged spell of hot and dry weather.
Meanwhile, second place in the winter barley section of the contest went to a crop of Cassia put forward by Stuart Norrie at Cairnhill, Turriff.
Third place was awarded for a block of Creswell from A C Horn at Parkburn, Fyvie.
The best entry in the spring barley section was a block of Laureate from John Ledingham at Fintry, Turriff.
Second place went to Concerto from Stuart Norrie at Cairnhill, while third place was awarded to another block of Concerto, this time from Kenneth Christie at Easter Whytnie, Boyndie.
In the winter wheat contest, first place was awarded to a block of Monroe from David Cruickshank of Logie of Newton, Huntly.
Second place went to a crop of Dickens from A G Norrie & Sons, Slackadale, Turriff, and third place went to a crop of KWS Jackal from Alexander Norrie of Woodside of Wrae, Turriff.