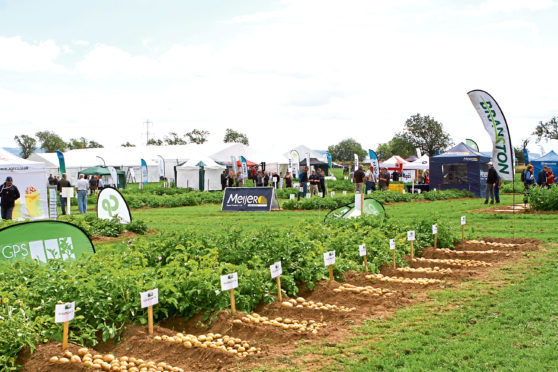 A world-leading potato research team is using genes found in tubers from the west Mexican desert in the quest for new heat and drought-resistant varieties.
In a year when high temperatures and a lack of rainfall have posed a serious challenge, visitors to the UK's largest field-based event, Potatoes in Practice, heard how researchers have identified genetic variations which can help protect potato crop yields in extreme heat.
Dr Mark Taylor of the James Hutton Institute (JHI) said the genes could help create varieties that were resilient to heat stress and suited to the requirements of growers, industry and retailers. Such a development is especially important for Scottish seed exports to growing markets in warm countries.
Dr Taylor said: "For many commercial potato cultivars, tuber yield is optimal at average day time temperatures in the range of 14-22˚C. When the weather is warmer, tuber production is inhibited, reducing potato tuber production, with damaging consequences for both producer and consumer.
"Although most potato varieties are sensitive to heat, there is significant variation in response to heat stress between different potato cultivars, and recent research at the Hutton has led to the discovery of genetic variations which can help protect potato crop yields at high temperature."
He said recent leaps in the understanding of genomics, genetics and crop science, funded by the Scottish Government's Strategic Research Fund, have made this type of genetic screening possible.
JHI is using its access to the Commonwealth Potato Collection to source gene variants and the work is part of a wider examination of how stress-resistant crops can be an important resource to preserve food security in the face of increased temperatures.
Dr Taylor said researchers are trying to accelerate the rate of potato breeding but no new commercial developments were likely for at least five to 10 years. His comments led to a debate about the recent European Commission ruling that mutants created by gene splicing or editing should be treated in the same way as transgenic material.
Dr Taylor said the crop science community was surprised and "somewhat disappointed" by this.
He added: "The more precise engineering of genes you can do by gene editing with no addition of foreign DNA does seem a great opportunity for the sort of genetic improvement of our crops that will be demanded if we are going to feed nine billion people by 2050."
JHI chief executive Colin Campbell said acceptance of the technologies was key but "we don't seem to have a social licence".