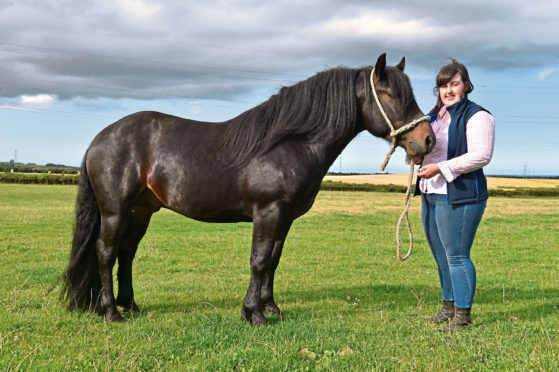 Breed societies are always thrilled to see youngsters come into a breed with great enthusiasm as they are the future.
And the Highland Pony Society can be no exception with regards to 18-year-old Sarah Macintosh of Greystone, Blackhills near Peterhead.
The first Highland Pony joined Sarah's Redleys stud five years and since then the herd has grown to an impressive 15 head of quality ponies.
While Sarah is the driving force behind the ponies, it is very much a family affair with dad Marc, an auctioneer at Thainstone Mart, mum Susan, a sales assistant with Harbro, seven-year-old Hannah who is now riding and competing in young handlers classes, and three-year-old Harry, all equally enthusiastic about the ponies.
The foundation pony, Overhall Chick, was purchased from Sue Knowles at Premnay and got Sarah's showing career off to a fantastic start by taking the New Deer Show championship that very first season.
In 2016 Chick was put to Royal Highland champion, John Reid's Glenbanchor Gillebrighde, and so the first Redleys foal was born last year. This was a colt named Redleys Glenugie after the old local distillery at Peterhead.
The second Highland Pony to arrive on the family farm was Lochewe Magnus, a gelding bought from Kerry MacLennan of Altbea. He has been shown very successfully under saddle, and won numerous in-hand and ridden championships at local shows.
He has qualified for Blair the past three years and this year qualified for both the in- hand and ridden NPS finals at the trials.
He stood an impressive 5th out of 25 in a HOYS class at the Royal HighlandShow and was the highest placed Highland Pony. He was also ridden champion at Angus, Echt and Keith this year.
Other females have joined the stud from Gordon and Ann Towns of Turriff, including Tiana May of Forglen (Marnonwells Gleann Eagas x Dawn May of Forglen) and Ruby May of Forglen (Marnonwells Gleann Eagas x Heather May of Forglen).
Tiana May of Forglen was champion at Turriff last year – in fact all of Sarah's ponies won their class that day – and she was also reserve supreme horse at Keith show a couple of weeks later.
Another notable addition to the stud is Purple Heather of Whitefield, a Lancelot of Whitefield daughter, out of Heather Honey of Whitefield from Sandy Baird.
In 2016, a filly was bought from Charlie McQuattie named Louise of Strathmore (Pipe Major of Whitefield x Rosie of Strathmore) and she has been another bringing home the rosettes.
She was champion Highland as a yearling at the Grampian Foal Show in 2016 and was first prize two-year-old filly at last year's Highland Pony Society Breed Show. This year she was champion and supreme horse at Keith.
Sarah has now bought a foal from Mr McQuattie which is a half sister to Louise.
"We select our ponies very carefully", said Sarah.
"They must be true to type, traditional ponies, with great locomotion, sound on their legs with good strong hooves, and not over height, they have to be correct".
The family now also has a stallion which was bought from noted Black Isle Highland Pony breeder, Wendy Sanders.
Ruwenzori Ferdinand is a 2015-born son of Moss-side Lairig Ghru and out of a Rannoch of Fourmerk daughter, and his first foal, Redleys Prince William, was born this year. He is out of Bogs Princess Mona, a mare who was bought from Elaine Stewart.
The second Redleys foal this year is Redleys King Alexander, a son of past Royal Highland winner, Whitefield Prince Platinum and out of Purple Heather of Whitefield.
Sarah's dad Marc says: "Sarah was picked to receive the Queen's bursary from The Highland Pony Society (HPS), so she was over the moon with that".
The HPS had received a cash gift from The Patron's Fund, the charitable fund set up to acknowledge the work of the charitable organisations for which Her Majesty, The Queen acts as a Patron, on the occasion of her 90th birthday.
"Sarah plans to use the money to pay for lessons in order that she can break her gelding to drive", explains Marc.
"Our land here is well suited to the Highland pony; they seem to thrive on it, it must be the salt air. The ponies get no pampering. I believe they should care for themselves."
It hasn't been an easy start into the breed explains Marc.
"We have come across a few who have tried to put us off– but that has only given us the determination to continue and strive for success," he said.
"Days like this year's Keith Show are just fantastic. I'm so proud of Sarah. She took both the in-hand and ridden championships that day. The ridden especially is a great achievement. She is self-taught and we don't even have an arena here so she's just breaking and riding ponies on bare fields."
Sarah's seven-year-old sister Hannah is following closely on and the family have a Shetland Pony for her to ride and compete in the young handlers classes with.
And with five mares in foal for next Spring, it looks like the Redleys stud has a great future ahead of it in these youngsters' hands and it will continue to grow and add to an already impressive collection of rosettes.