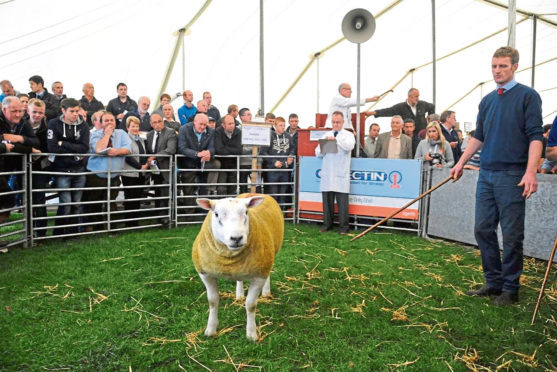 A grand offering of 5,458 rams – 47 more than last year – will come under the hammer at Friday's 181st Kelso Ram Sales.
The sales will feature 15 rings with seven auction companies involved, and they have attracted entries from 18 breeds and crosses.
As in previous years the Texel breed is the most numerous with 1,957 entries, up 29 on last year, followed by the Suffolks with 1,129 (+16). Bluefaced Leicester entries are up to 725 (+92), as are Beltex which stands at 339 (+74).
Other popular breeds are the Berrichon with 53 (+16), the Border Leicester with 90 (+9), and the Hampshire Down with 27 (+9).
The Charollais entries are down by 44 to 227, as are the cross entries which have fallen by 114 to 680 entries, and the Lleyn has also fallen by 15 to 97.
Also forward will be 23 Blue Texels, six Charmoise, 25 Dutch Texel, two Millennium Blue, 55 North Country Cheviot, eight Roussin and 11 Vendeen, and new to the sales this year is the Dassenkop breed with four entries.
Last year's turnover of £3,160,290 was a record, up 7.6% on the year, and the average of £709.54 was also a record – the first time it has broken the £700 barrier, and up £24.06p for 169 more sold.
Brian Ross of Lawrie and Symington will have a team of seven auctioneers at Kelso, where they have 1,520 rams to sell in eight rings.
He said: "I think that the tup trade will be much along the same lines as last year, I can't see them being any dearer.
"Kelso is a big day for us, it's always a day I enjoy. Certainly, in our area the sheep trade is doing very well, considering the year we have had weather wise.
"At the minute, the fat lamb trade is steady and is similar to 12 months ago, and we have just held our first breeding sheep sale where the trade for Mule and Texel females was much better than we anticipated.
"The top-end gimmers were certainly as dear if not dearer than the same sale last year and our overall average was only different by pennies."
David Pritchard, joint managing director of Harrison and Hetherington, said the company would have 1,926 rams to sell out of seven rings, with 10 auctioneers travelling to the event.
He said: "The ram sales we have conducted so far this year saw averages back but they have still been a very respectable trade and there is a good demand.
"There is a cycle in the sheep industry and no matter what else is going on, the farmers still need to be buying tups.
"As for other sheep sales at the minute, the store lamb trade is remarkably good and albeit prices are down a couple of pounds, everybody seems happy and with the rain coming along just at the right time, the grass has grown, and there are plenty of buyers out there.
"Prime lamb numbers have been down on the year, it's the same all across the country, which is a bit of a concern.
"I'm not sure the market would have stood up to it had there been more coming on."
Making the journey south to Kelso from Home Farm of Auchry, near Turriff, will be father and son team, Michael and Matthew Seed, who run a herd of beef cattle alongside 100 head of Texels and 85 Bluefaced Leicesters on 400 acres.
They will have 20 Texel shearlings in ring seven with Lawrie and Symington and then 10 Bluefaced Leicester shearlings and seven lambs forward in ring 17 with Hexham and Northern Marts.
Last year, the Auchry Texel pen sold to £2,500 and averaged £1,040.
Matthew Seed said: "We always look forward to Kelso. We first sold there back in 2011 and it has become one of our main sales.
"There are always a good number of buyers from Scotland as well as the north of England for our Texels, and our Bluefaced Leicesters always attract a keen interest from the Welsh breeders as well as other parts of the UK."
Also Kelso bound are the Black family of Newton of Collessie, Ladybank.
Ronnie, along with sons Pete and Mike, will have a pen of 14 Suffolk lambs heading through ring 10, as well as three Beltex shearlings in ring two.
The Blacks have been selling Suffolks at Kelso since the mid-1960s and often make it into the top 10 average list.
Mike Black said: "Two of our Suffolk purchases from last year have made a big impression. Limestone Legacy was purchased jointly with Stewart Lethangie of Pyeston, and George and Melvin Stuart, of Birness.
"He is currently runner-up in the Suffolk sire of the year competition and we are delighted with how his lambs are looking."
The first Legacy son sold from Pyeston made 24,000gn in Stirling in July.
There are now seven Beltex females on the farm and this year will see the first ever Collessie Beltex rams sell at auction.