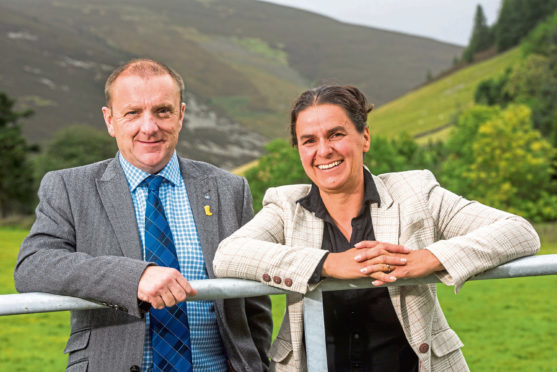 Borders farmer Kate Rowell has been named as the new chairwoman of Quality Meat Scotland (QMS).
Mrs Rowell – the first female chair at QMS – will take on the role on October 1 when Jim McLaren steps down.
A fifth-generation farmer and qualified vet, Mrs Howell runs the 1,850-acre Hundleshope Farm on the Haystoun Estate, near Peebles, with husband Ed and their four children.
Prior to taking on the family business, which comprises 75 suckler cows and a flock of around 800 sheep, she worked in a mixed veterinary practice in the north of England for eight years.
She is an honorary president of the Peebles Agricultural Society.
"I feel privileged to have this opportunity to play such a pivotal role in the Scottish red meat industry.
"I am very much looking forward to getting out and about in the coming weeks and months to hear more from people working in all parts of the red meat industry," said Mrs Rowell.
Mr McLaren said: "Kate brings a wealth of experience to the role of chair, both as a farmer and a vet. Her passion for farming is shared by her enthusiasm for the wider industry and inspiring and educating people about farming and where their food comes from.
"I have thoroughly enjoyed my tenure in the role of QMS chair."
Mrs Rowell will serve for four years and receive remuneration of £340 a day for a time commitment of 104 days per year.