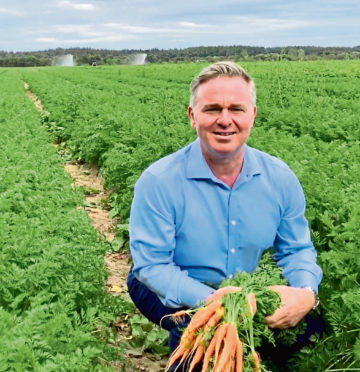 A group of five Conservative MPs has written to Rural Economy Secretary Fergus Ewing asking him to put forward legislation for Scottish post-Brexit agricultural policy.
In their letter, the MPs – Colin Clark, Douglas Ross, David Duguid, Kirstene Hair and Andrew Bowie – call on the Scottish Government to outline its plans for post-Brexit farm policy as soon as possible.
The letter states: "The Scottish Government put forward its programme for government on September 5, but it did not include a Scottish Agriculture Bill. We find that unacceptable that the farming industry is left guessing as to what is going to happen in Scotland after we leave the EU."
They said Defra had made it clear that it was up to the Scottish Government to draw up plans for post-Brexit policy.
The MPs added: "Our colleagues in the Scottish Parliament have been asking for your government to set out plans for several months now.
"We would urge you to do so at the earliest opportunity. Time is running out and our farmers deserve some clarity and reassurance on what lies ahead."
A spokesman for Fergus Ewing said: "We will take no lectures from the Tories – they are the ones proposing to remove direct payments from Scotland's farm and croft businesses. And while the UK Government may be happy to leave farmers in England high and dry without the support they need to provide quality food, we are not."
He said the Scottish Government was the first administration in the UK to set out plans for agriculture for the short and medium-term after Brexit.
The spokesman added: "We have consulted on our proposals to provide stability and simplicity to farmers, crofters and rural businesses, to minimise the potential disruption of Brexit to our rural communities while continuing to support food production and provide environmental benefit.
"We are considering the views and responses received and will set out our final plans in due course."