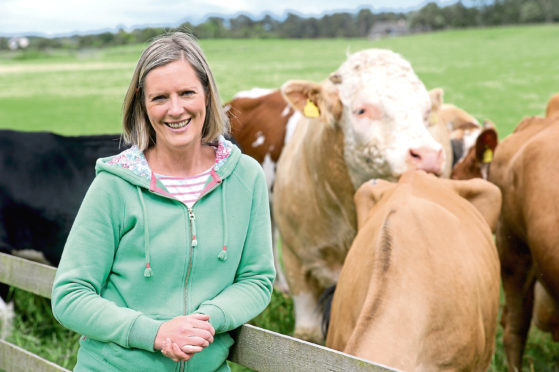 It's hard to believe it is September already but the cooler, wetter weather of late feels decidedly autumnal with the long hot summer all but a distant memory.
That said, the cows continue to graze contentedly outside and will stay there for as long as it stays dry and relatively temperate.
In preparation for the winter, Nick and the team will shortly be putting up new pens in the bottom (main) shed to accommodate dry cows and newly- calved heifers.
The Ayrshires Nick bought last month have settled in well and have even been remarked upon by several observant locals, including our lovely school bus driver, Davey.
Meanwhile, Nick harvested his spring barley at the beginning of the month – the earliest harvest for some time – and has already bruised and treated it with Maxammon.
Indeed, for the first time in years the fields are clear at my in-laws' estate south of Inverness, ready for the forthcoming Strathnairn Farmers' Association Vintage Tractor Rally, which has been held annually at Daviot for the past 12 years.
This year's rally takes place on September 29, from 10am until 4pm.
Nick has baled and stored as much of his straw as the sheds here at Rootfield can accommodate and has been fortunate to have a decent crop.
The long hot summer has resulted in a more modest harvest in other parts of the country, which means straw and feed costs will be high come the winter.
Unfortunately, the calves are not doing as well as Nick had anticipated in their new calf hutches, installed in the summer to facilitate better air flow to the young cattle.
His intention, as soon as funds allow, is to build an open-sided shelter over their outside pens.
Nick also found, via a recent blood test on one of the less healthy calves, that the colostrum it was being fed was not of high enough quality, which he is addressing as a priority.
The production and processing arm of the business underwent its annual food safety inspection at the beginning of the month with a rigorous day visit from environmental health as well as spot product testing.
The ice cream and ancillary products are still selling well – from the farm and through our valued and varied trade outlets. Indeed, the honesty shed has proved so popular with customers that Nick and I are considering how best to build on its success.
Our neighbour and ice cream team member, Lina, has added value to our dairy offering at the 'shop' with her homegrown tomatoes, cucumbers, garlic and plants.
Meanwhile, Daisy has been picking cooking apples from the garden, bagging them up and selling these for a little pocket money.
Nick joked that we should set up a co-operative and it got me thinking. I mentioned in a previous column that when I lived in Manchester, two decades ago, there was a fantastic farmers' co-operative in Chorlton called Unicorn.
A quick visit to their website showed that Unicorn Grocery has become an award-winning institution, but before I could get carried away with plans for our own mini Unicorn at Rootfield, selling an array of fresh produce from the many local growers on our doorstep, Nick pointed out issues such as staffing and stock control.
I had envisaged it operating on an honesty basis. However, Nick argued in today's highly digitalised world of paying via smartphones and contactless devices, customers would be reluctant to come with cash and pay exact amounts into several different boxes, not to mention the potential risk of theft.
I countered that we should have more faith in folk and that surely customers who make the effort to buy local wouldn't mind the less convenient payment method.
However, Daisy's apple stall proved my better half's point on its first day of trading when her little hot chocolate tin had £10.20 in it when only two small bags had gone at 10p each.
Poor Daisy's delight quickly turned to dismay when we explained that someone must have accidentally put money for ice cream in her tin!
Nick is still considering the idea of a milk vending machine, so perhaps there is potential within this – or even an ambient vending machine – to sell other products securely from the farm.
What we can do now is revisit our founding principles and revise our gelato, sorbet and frozen yoghurt offering.
Now that the heat of the summer has dissipated and ice cream production is less frenetic, Nick is working with Rosie to come up with a limited edition range of seasonal flavours as well as flavours of the week, something I'm keen to get involved with.
On the home front, Nick and I are getting stuck into some DIY and redecorating in our down time.
We have been in the original farmhouse for 13 years, which we extended when Daisy was just one, so we are feeling the need to refresh things.
This is proving somewhat easier said than done, I suppose because a bit like the honesty shop and ice cream business, it's hard to imagine things differently when this is the way it's been for years.
Next Month: Hallowe'en and Guy Fawkes fun.
* Rootfield Farm is on the Black Isle, 10 miles north of Inverness, where Jo lives with husband Nick, a fourth-generation dairy farmer, their daughters Daisy and Mollie, and 170 cows.