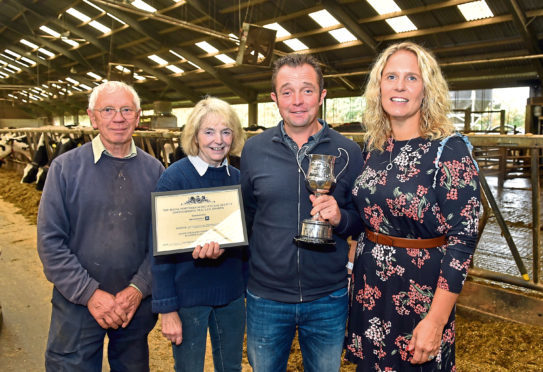 An intensive dairy farming business near Inverbervie has been crowned cream of the crop.
The Colquhoun family – Gregor and his wife Faye, along with his parents Blair and Judy – of Dendoldrum Farm is the recipient of this year's Royal Northern Agricultural Society (RNAS) good farming practice award.
The award, which is sponsored by Aberdeenshire Council, celebrates a farmer in the region who is showing good practice in his or her farming business.
The Colquhouns milk 750 cows on a high-input, high-output system.
The cows are housed all year round and milked either through a traditional parlour or by one of the farm's six milking robots.
Yields average around 37 litres per cow per day and milk is sold to Muller, with around two thirds destined for Tesco.
Judge Alister Laing, from the Glenrinnes Estate, praised the high standards at Dendoldrum and the Colquhoun family's attention to detail.
He described the farm as a "well-run and managed business that is dedicated to their cows".
Mr Laing added: "Gregor has a saying that happy cows lead to a happy farmer, and prevention is better than cure.
"Starting with youngstock, Gregor ensures the heifer replacements are batched into social groups that they will stay in through their first two years.
"Over that period, they are gradually introduced to the feed that they will be fed when milking and moving from bedded area to cubicles before they calve. Everything is done to minimise stress."
Meanwhile, the runner-up award went to the Hendry family – brothers David and Alick and their parents George and Barbara – at Wester Manbeen Farm, near Elgin.
The family runs a mixed enterprise across around 1,000 acres.
A herd of 185 organic cows is milked via robotic milkers and all milk is marketed through the Organic Milk Suppliers Co-operative. The family usually buys in around 900 organic lambs for fattening.
However, a lack of grass means this isn't on the cards this year.
The farm carries 500 acres of grass, 170 acres of barley, 40 acres of oats and 15 acres of forage peas – all of which are grown as feed for the cows.
The family also runs a conventional unit near Keith where 100 acres of malting barley and 100 acres of seed potatoes are grown.
Mr Laing praised the Hendrys for their move to invest in the business and put it in a strong position for the future.
He said: "Due to the low milk price and ageing equipment, the business had to look at which what they should go.
"The Hendrys decided to convert heir unit to a new organic unit, and in doing this it meant that he long-established pig enterprise had to cease.
"The family has a great attention to detail, which is so evident in the successful business that hey run."
Aberdeenshire Provost Bill Howatson, who attended Dendoldrum for a prizegiving ceremony, praised both businesses.
He said: "Milk producers are much more exposed to market forces, and while the sector in the north-east is not without its challenges, we have here two exemplar enterprises which are blazing a trail for others to follow."