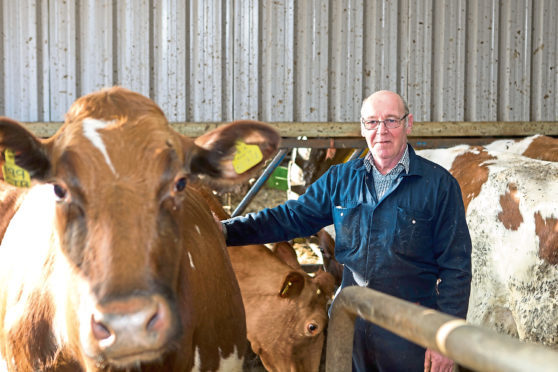 Scotland's newest dairy has started production in the furthest north-west corner of the country.
Despite pitfalls and obstacles over the past four years, excited father and son Gordon and Scott Mackay have finally commenced deliveries from their family run Brogaidh's Dairy in the Western Isles.
The £1 million venture on a croft in South Bragar on the Isle of Lewis comprises a herd of pedigree Guernsey cows – which were bought from south Wales and are acclimatised to wild weather – as well as a number of Ayrshires.
Guernsey cattle were selected for their A2 milk, containing high levels of beta carotene – a good source of vitamin A, high butterfat content and high protein content.
The first milk flowed through the family's new dairy yesterday with 350 litres produced for doorstep deliveries to islanders.
Gordon, a former oil industry engineer, said interest was keen and the next step is to increase supply and distribute through local shops.
Milk has been shipped in to Lewis from the mainland since the last island farm closed in 2012.
Gordon said: "Milk doesn't travel very well. It's a few days old by the time it arrives on the island, so the quality is very poor.
"We have the right herd which gives a quality milk, so we think we can get a good customer base with the product we have.
"The first deliveries were difficult as a lot of the houses don't have numbers on them. In the villages numbers are just spread throughout and don't match up. One can be number 41 while the neighbour is number 75."
He said he did not realise the amount of red tape he would face, and at times the family thought the venture would never get off the ground.
Last year the family lost £300,000 because environmental health approval was denied, and the majority of the cows were sent back to the mainland.
Scott said: "After the last four years preparing, it was good to get the first bottled milk out to customers."