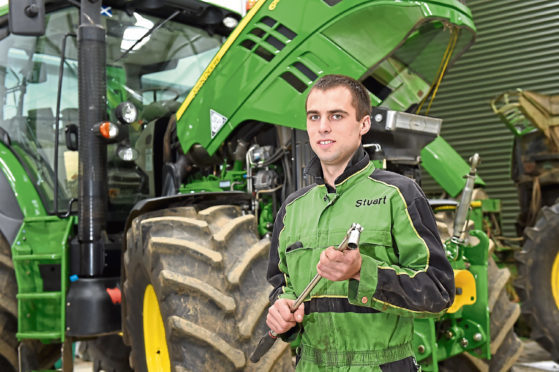 A self-employed farm mechanic with a passion for getting broken machinery up and running again as soon as possible is the winner of this year's Royal Northern Agricultural Society (RNAS) Under 35 award.
The SRUC-sponsored award is given to a person in that age group who has demonstrated significant achievement and contribution to agriculture.
This year's winner is Stuart Duncan, who runs S.D. Agri at Redhouse Farm, Tullynessle, Alford.
The 30-year-old has been running his own business as an agricultural mechanic and second-hand machinery dealer since 2009.
He left school at the age of 15 and trained as a mechanic with a local farm machinery dealer, before leaving to work for an agricultural contractor for six months and then setting up his own business.
"I have always been into tractors," said Mr Duncan, who started out from a workshop on his family's Lethenty Farm, near Alford.
"I enjoy the buzz of it when something is broken and you can fix it and get people up and running again."
He says the workshop on his family farm, which he used for a "very reasonable rent", was a great boost to the business to get it up and running before building new premises at Redhouse last year.
"I would like to thank the farm business – Duncan Tulloch – for allowing this to be possible," he said.
"And I'd also like to thank my parents for their support from lending a helping hand in the workshop to taking me to collect tractors."
A drive to do more tractor driving, rather than fixing, was the impetus for leaving the machinery dealership, but Mr Duncan admits he now spends more time fixing tractors, rather than driving them.
His business has grown to now include a small second-hand machinery dealership and also a parts department, which stocks John Deere tractor spares, oils, plough metal and other commonly used parts for machinery.
He provides mechanical services to customers in Moray, as well as areas around Banchory, Keith, Huntly, Insch, Westhill and in and around Alford.
Mr Duncan admits it wasn't easy to start out on his own, but he enjoys being his own boss and having direct contact with customers.
"I wouldn't want to be a big business because that's when you lose touch with customers," he said.
"It was a challenge getting parts in the beginning, and another challenge is keeping up with the workload."
At busy times, he is helped by his brother Alan and Max Riddoch from Insch.
His wife Linda also helps with parts duties and office work along with part-time book keeper Jackie Williams.
When asked about his award win, Mr Duncan said: "I was shocked, it was very unexpected. It's good but I just feel I'm doing my daily work and I don't feel like I've done anything special to get it."
He paid tribute to the help and guidance given to him by Robbie Smith during his time as an apprentice mechanic, and said he was a huge help in the early days of his career.
"The training Robbie provided was better than any college," added Mr Duncan.
On future plans, he said: "I may consider hiring a new employee if the right person came along, which would spread the workload and possibly allow more time to do more tractor sales as I enjoy servicing and preparing the tractors for selling."
Mr Duncan, who has two daughters, Sophie, four, and Charlotte who is nearly two, with his wife Linda, paid tribute to the patience of his family.
He said: "I need to thank my wife and family for putting up with me working long hours and not being at home as much as I should be."
In all the citations for the award, Mr Duncan is praised for his strong work ethic and drive to provide good customer service.
One citation reads: "It is not uncommon for this man to work through the night, repairing implements and machinery for the next morning, to avoid any down time to the agriculture industry. My first personal experience with Stuart is having a broken-down tractor at noon in April. I had no prior dealings with this young man, told him of the problem and that I was 55 miles from him.
"By 7am the following morning he had stripped the tractor and was replacing the worn parts, meaning that I had the tractor back working within 24 hours of my cold call.
"From what I understand from other farmers, this is entirely typical of his service." Another citation describes Mr Duncan as "very honest and reliable" and it says nothing is ever too much for him.
Mr Duncan will receive his award at a special celebration lunch on Friday November 2 at the Jury's Inn at Aberdeen Airport.
A limited number of tickets are still available for the awards lunch.
They cost £27.50 each and are available from RNAS secretary Alison Argo who can be contacted by calling 07714 899628 or by sending an email to secretary@rnas.info.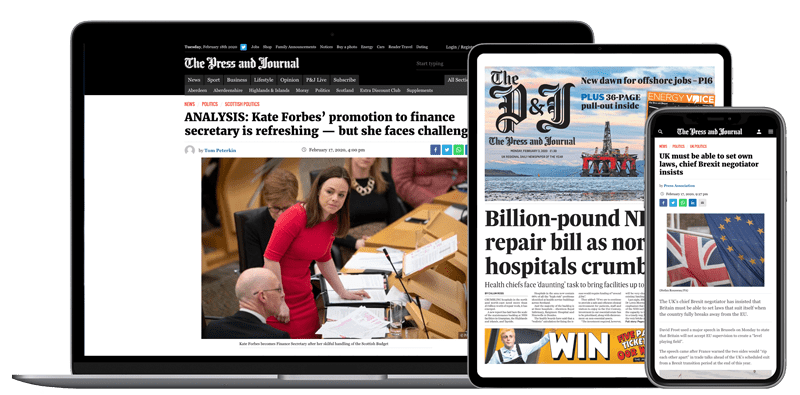 Help support quality local journalism … become a digital subscriber to The Press and Journal
For as little as £5.99 a month you can access all of our content, including Premium articles.
Subscribe