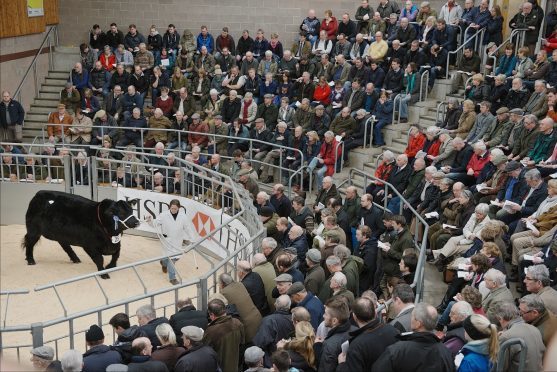 A bumper entry of Aberdeen-Angus bulls and females will dominate the Stirling Bull Sales later this month.
A total of 771 pedigree bulls and females across eight breeds will be for sale during the three-day programme which begins on Sunday October 21.
Breeds for sale will also include Beef Shorthorn, Limousin, Simmental, Charolais, Salers, British Blonde and Lincoln Red cattle.
United Auctions group sales director John Roberts said the number of Aberdeen-Angus bulls was testament to the breed's popularity as a result of the demand for grass-fed beef and the premium paid for the Angus label.
The programme begins with the judging of Aberdeen-Angus in the Sunday morning, followed by Beef Shorthorn cattle and a parade of Salers, British Blue and Lincoln Red bulls in the afternoon. Their sales will be held on Monday October 22.
The pre-sale show of Charolais bulls will be held on Monday morning followed by Simmental cattle in the afternoon with the sales of both breeds taking place the following day. The Simmental female sale on Tuesday morning includes the dispersal of the renowned Mendick herd, totalling 38 lots.
Judges include Noel Hooke, Hillsborough, Co Down, for Aberdeen-Angus, and John Scott, Fearn Farm, Tain for Beef Shorthorn.
Will Short, Woodpark, Omagh will judge Charolais, Michael Robertson, Mid Fodderletter, Tomintoul, will judge Limousin, and Norman Robson, Ballyclare, is the Simmental judge.