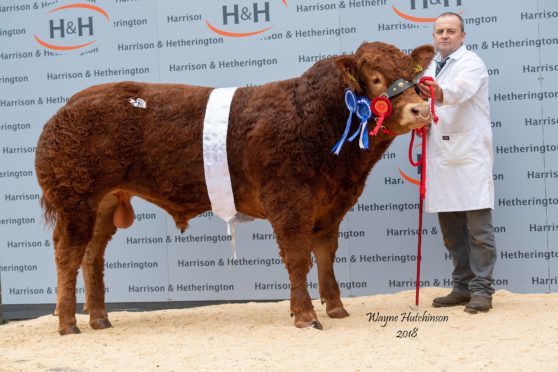 Limousins sold to a top of 17,000gn at the breed's autumn show and sale of bulls in Carlisle.
Auctioneers Harrison and Hetherington sold a total of 118 bulls for an average £5,611.36, with 13 lots selling for five-figure sums.
This is down on last year's average of £7,018.27 when 113 bulls exchanged hand and a top price of 70,000gn was paid.
Leading the charge at this year's sale was the reserve overall and junior champion from the pre-sale show, judged by Cumbrian breeder Adam Watson, who runs the Saunders herd.
This was 15-month-old Pabo Niro, from W P Hughes & Sons, Fferam Gyd, Llanbabo, Anglesey. An ET son of Netherhall Jackpot, out of Pabo Icemaden, he sold to Messrs Bell, Lockerbie.
Next best at 16,000gn was a third-prize entry from Stephen Nixon's Huntershall herd in Wigton, Cumbria.
Huntershall Nutcracker is an April 2017-born AI son of the £40,000 Plumtree Fantastic, out of Huntershall Josie. He sold to Messrs Harryman, Keswick, Cumbria.
Thereafter, 14,000gn was paid for a first-prize entry from Dumfries breeder Bruce Goldie, of Townfoot, Mouswald.
May 2017-born Goldies Northstar, by Goldies Juggler and out of Goldies Gracious, sold in a two-way split to north-east breeders.
The buyers were Garry Patterson for his Aultside herd at Upper Forgie, Aultmore, Keith, and Graham Morrison for his Deveronvale herd at Inchbruich Farm, Cornhill, Banff.
Next best at 13,000gn, selling to Messrs Booth, Aston, Sheffield, was the first bull in the ring – four-year-old Dinmore Jollygood, by Wilodge Tonka, from Redpath Farms, Kelso. Other leading prices included 12,500gn for June 2017-born Gunnerfleet Noble, also by Plumtree Fantastic, from Ian Handley, Gunnerfleet Farm, Ingleton, Lancashire.
He heads north to the Baillies at Tankerness, Orkney.
Meanwhile, Garry Patterson enjoyed success with entries from his Aultside herd, selling to a top of 12,000gn. His sale topper – selling to Messrs Cleasby, Penrith – was February 2017-born Aultside Nirvana. He is an ET son of the 35,000gn Foxhillfarm Jasper, out of Spittalton Flush.
Another Aultside entry sold for 10,000gn to Messrs Howells, Llandysul, Dyfed. This was Aultside Notorious – another February 2017-born ET bull bred the same way as the 12,000gn lot.
Another at 10,000gn was July 2017-born Goldies Nugget, from Bruce Goldie.
An ET son of the 38,000gn Amptertaine Foreman, out of Goldies Fragrance, he sold to Messrs Duncan, Ballindalloch, Banffshire. Other leading prices included 7,500gn for April 2017-born Ronick Nemo, from Ronald Dick, Mains of Throsk Farm, Stirling. An AI son of the 22,000gn Broadmeadows Cannon, out of Ronick Jilly, he sold to Messrs Cameron, Fort William.
Another Ronick entry sold for 7,000gn to Messrs Proctor, Morpeth, Northumberland. This was May 2017-born Ronick Nissan, by the 20,000gn Lynderg James, out of Ronick Glossary.
Another lot selling for 7,000gn was rising two-year-old Scorboro Mischief from J C G Bloom & Son, Decoy Farm, Driffield, East Yorkshire. By Fenomen, and out of Scorboro Dusk, he sold to Messrs Marr, Skene, near Aberdeen.
Also at 7,000gn was April 2017-born Plumtree Najinksi, from Paul Cairns, Hall Farm, Tollerton Lane, , Nottinghamshire. An ET son of Trueman Jagger, out of Bankdale Amber, he sold to Messrs Buchan, Kirriemuir, Angus.
The averages were: senior bulls, 34, £4,782.36; intermediate bulls, 46, £5,141.63; junior bulls, 38, £6,921.71.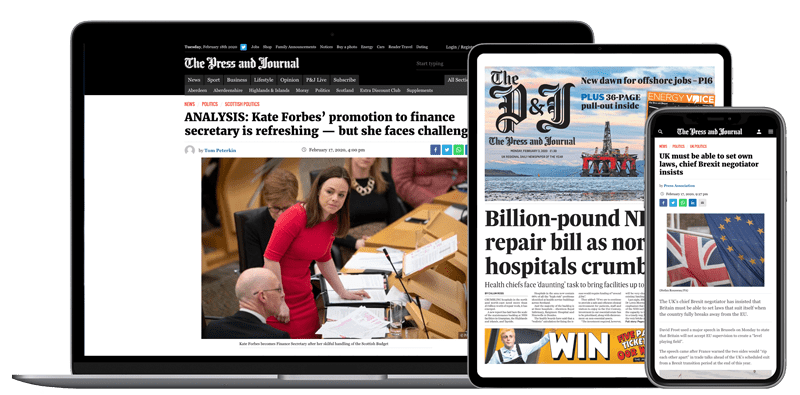 Help support quality local journalism … become a digital subscriber to The Press and Journal
For as little as £5.99 a month you can access all of our content, including Premium articles.
Subscribe