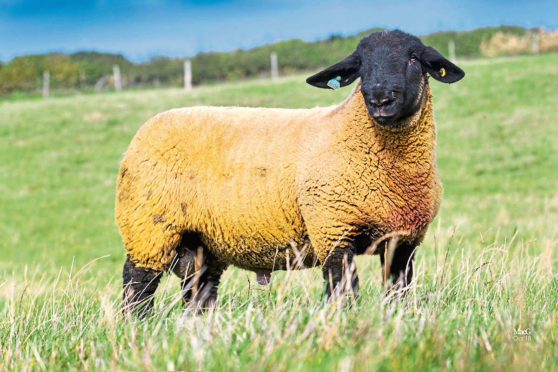 A joint top price of 10,000gn was paid for two Aberdeenshire-bred rams at the dispersal sale of the Stockton flock of pedigree Suffolk sheep.
The dispersal of John Sinnett's flock, based at Stockton Cour, Stockton-on-Teme, Worcester, attracted buyers from all over the UK and Ireland.
The flock was being dispersed as a result of the farm being sold and the partnership being dissolved.
Leading the way to make the top price of 10,000gn first was January-born ram lamb Birness Cracker, by Crewelands Megastar.
Bred by father-and-son duo George and Melvin Stuart, who run the Birness flock at Milltown of Birness, Ellon, he sold to the Stockton flock earlier this year for 3,000gn after standing reserve champion at the Stirling sale.
He now heads to PW Poole, Battlefield, Shrewsbury, Shropshire.
The second lot at 10,000gn was December 2017-born Cairness Corker, by Cairness Agent.
Originally bought at Stirling for 20,000gn, he sold back to his breeder – Jimmy Douglas of Cairness, Fraserburgh.
Next best at 7,000gn was the flock's show ewe lamb, by Dol-llys Bale, which was reserve female champion at the Three Counties and Royal Welsh Shows over the summer. She sold to Messrs Turner, Longford, Derby.
A December 2015-born show ewe, by Irongray Black Magic, sold for 6,000gn to Russell Poole, Shrewsbury, to start a new flock.
She was interbreed champion at the Three Counties last year and at the Royal Welsh in 2016.
Other leading prices included 4,200gn for a December 2017-born ewe lamb, by Dol-llys Bale, selling to the Troups at Shaggart, Sauchen, Inverurie.
Meanwhile, the Ingram family of Logie Durno Farm, Pitcaple, Inverurie, snapped up several lots.
Among their purchases was a December 2017-born ewe lamb, by Dol-llys Bale, for 2,600gn.
They also paid 2,500gn for January-born ram lamb Rhaeadr Arnie, by Rhaeadr Raring to Go, which was originally bought for 5,000gn at the national sale.