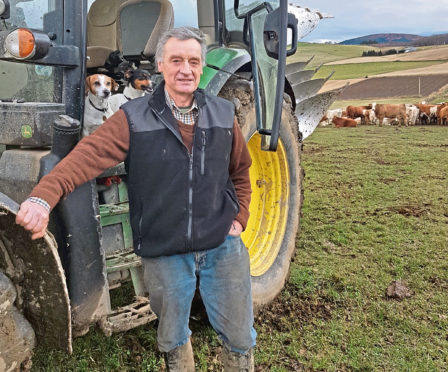 Aberdeenshire farming stalwart Charlie Adam has thrown his hat into the ring as a vice-presidential candidate in the forthcoming NFU Scotland election.
Mr Adam, 64, from Alford, said yesterday that he believed he had experience and contacts which he could use to members' advantage if he is elected to the union's top team.
"NFU Scotland's current leadership team is doing a cracking job in the face of Brexit but a tough road lies ahead over the next few years, and the job facing us now is to put across what union members are thinking," he said.
"I already have a relationship with the people who are in positions of power and I'm able to deliver the message. I certainly don't have all the answers to what's needed but I'm here to listen."
Mr Adam served as the union's north-east region chairman for three years and has been chairman of the livestock committee for five years.
He runs a 335-acre mixed farming enterprise, growing malting barley and producing beef from a 100-cow suckler herd. He also rents additional grassland.
Of the two current vice-presidents, Aberfeldy hill farmer Martin Kennedy has indicated he will stand for re-election but Stranraer dairy farmer Gary Mitchell is standing down.
The deadline for applications is December 12 and so far no other candidates have announced their intention to contest the positions.
Any NFUS member can be nominated for election, providing they are proposed and seconded by NFUS members.
The presidential position is held for two years and those elected to the position of vice-president will initially serve for two years before the post reverts to an annual election.
Members of NFU Scotland's council, which is made up of representatives of each of the union's 73 branches, will select the successful candidates in an election – only held if other candidates come forward – that would take place at the union's council meeting in Glasgow on February 8.