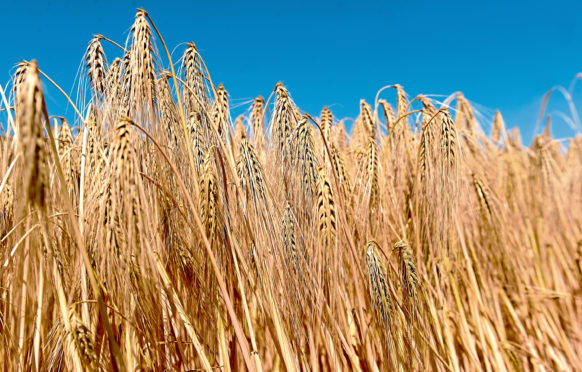 Scottish farmers enjoyed success at this year's Yield Enhancement Network (Yen) Awards.
The Yen scheme encourages growers to take steps to improve crop yields and get as close to their yield potential as possible.
Shetland grower Jamie Leslie, who farms at Scholland Farm in Virkie, was crowned innovator of the year as well as barley gold award winner for yield potential at the Yen awards in Harrogate, Yorkshire.
He won the innovation award in recognition of his work with the Shetland Barley Group, which saw him achieve a 43% increase over the long-term barley yields for Shetland.
The challenge faced by Mr Leslie and his fellow island growers was how to make barley growing a profitable enterprise in Shetland – yield and quality needed to increase and growers needed to take a close look at their inputs and general management systems.
AHDB knowledge transfer manager Emily Pope, who nominated Mr Leslie for the award, said: "Jamie used the Yen initiative to help push the boundaries of crop production on Shetland.
"He initiated the Shetland Barley Group with the objective of reducing the islands' reliance on imported feed and straw by increasing productivity on the limited area of land suitable for cereal production.
"After taking virtual agronomy advice from SRUC's Crop Clinic, Jamie increased his input costs by £160/ha, however the reward in the end was achieving an impressive 8.2 t/ha which resulted in an increase in margin of £389/ha."
Mr Leslie was presented with the gold award in the barley yield potential category after achieving 58% of his potential yield.
The other Scottish winners were Roxburghshire grower Hugo Lee, who picked up a gold award for a barley yield of 8.2t/ha, and Donald Ross of Rhynie Farm, Easter Ross, and Black Isle grower Mark McCallum, who came second and third respectively for wheat yield potential.