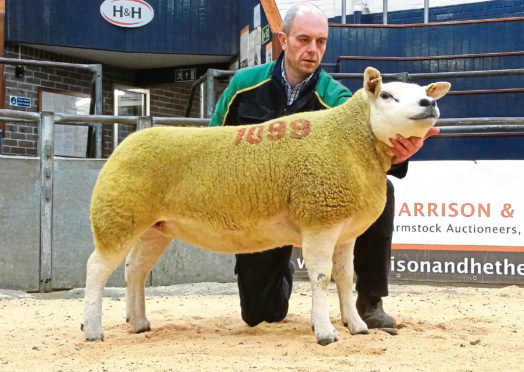 Scottish breeders enjoyed success at the Christmas Stars sale of in-lamb pedigree Texels at Carlisle.
Banff farmer Graham Morrison, who runs the Deveronvale flock at Inchbruich Farm, Cornhill, sold to a top of 9,000gn.
His sale topper, selling to Boden & Davies for their Sportsmans flock in Cheshire, was a daughter of the £60,000 Strathbogie Yes Sir, in-lamb to Sportsmans Benchmark. Another two the same way made 4,500gn and 3,000gn.
Mr Morrison also made 6,000gn selling a daughter of Knap Yard Master, in-lamb to Deveronvale Aftershock, to Messrs Evans, Hope Valley, Shrewsbury.
The Campbell brothers of Drimsynie, Lochgoilhead, sold the best from their Cowal flock for 4,500gn to Messrs Renwick, Kelso. This was a Strathbogie Your Tupped daughter, in-lamb to Auldhouseburn Boss.
Huntly breeder Jim Innes, who runs the Strathbogie flock at Dunscroft, topped at 4,000gn for a daughter of last year's Highland Show champion – Strathbogie Yes Big Boy – in-lamb to Knap Blazing Star. She sold to Messrs Head, Oakhampton, Devon.
Turriff breeder Robbie Wilson, who runs the Milnbank flock at North Dorlaithers, topped at 2,500gn for a Strathbogie Yes Sir daughter, in-lamb to Auldhouseburn Billy The Kid. She sold to Messrs Craig, Glencaple, Dumfriesshire.
Sandy Lee, who runs the Fordafourie flock at Memsie, Fraserburgh, topped at 2,200gn for a Stainton You Bet daughter, in-lamb to Teiglum Bandana. She went to Messrs Seed, Turriff.
Robert Cockburn topped at 1,600gn for a Clinterty Yuga Khan daughter, in-lamb to Knock Banker, from his Knap flock at Crieff. Meanwhile, the top price at the sale was 14,000gn for a Teiglum Younggun daughter, in-lamb to Plasucha Big Gun, from the Sportsmans flock.