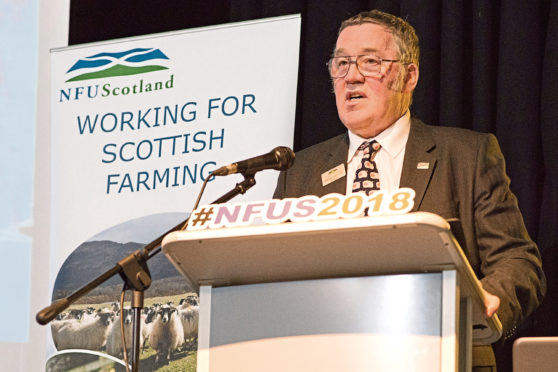 A controversial dual-country "belt and braces" approach to new farm legislation has been demanded by Scotland's farmers' union.
NFU Scotland president Andrew McCornick urged the Scottish Government to not only produce a Scottish agricultural Bill to deliver farm policy beyond the Common Agricultural Policy, but to take powers via a schedule in the UK Government's Agriculture Bill which is well advanced at Westminster.
Mr McCornick said such an approach would be in the best interests of Scottish farming while so much of the politics is "mired in impasse".
His frustration at his lack of progress in persuading Rural Economy Secretary Fergus Ewing to develop primary legislation was clear at an end-of-year briefing in Edinburgh.
He said: "We want to see something in place right now that shows a direction of travel.
"Every farmer has to do long-term planning and there are people sitting considering whether to sell up or expand their businesses.
"These are major decisions, yet we don't even know what our future trading arrangements are going to be or the direction future Scottish agriculture policy is going."
However, both Mr McCornick and the union's policy director Jonnie Hall were adamant that farm policy must remain devolved to meet particular needs in Scottish farming.
Mr Hall said: "Defra have always made it clear they aren't interested in running agricultural policy in Scotland.
"The trajectory that England have taken of phasing out direct support over a seven-year period would be an absolute disaster for Scotland but they're not trying to impose that on us at all.
"One of the problems we've encountered is that the Scottish Government is very clear it could do things but it hasn't categorically said it will do things, so there's not a clear commitment to a route map that would be driven through the Scottish Parliament," added Mr Hall.