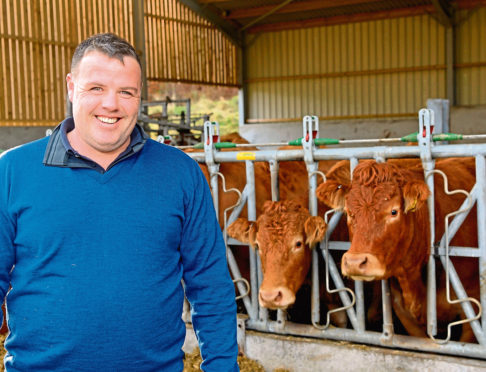 Efforts to establish a herd of hardy pedigree Limousin cattle on a farm near Fort William are paying dividends.
The Cameron family's Strone Farm, on the Lochiel and Achnacarry Estate, is home to 50 pure Limousin cows and 520 North Country Cheviot ewes.
The family – Malcolm and his wife Eileen, along with their son Chris – have been tenants on the 3,000-acre farm since 1990.
They have played host to the Lochaber Monitor Farm project since 2016.
The Limousin herd was established in 1993 when Malcolm bought his first cow from the Irvine family's Anside herd, based at Drummuir, near Keith, and his second cow a few years later from the Greenwell herd.
The whole Stronefield herd can be traced back to these foundation females.
"We find the pure Limousin cow is very adaptable, she calves easily and even if not on the best of grass will maintain her condition and get back in calf," said Malcolm.
"She may not have as much milk as a cow grazing on better pasture, but the calves have the genetics to grow on when they are weaned."
He said the family had deliberately avoided any extremes in the breed and bulls are carefully selected based on their maternal traits such as ease of calving and milk.
Chris, who also has 12 of his own Camerons-prefixed females with the main herd, said a plus point of the breed is that cast cows are worth good money. A few bulls are also sold naturally from the farm every year, with the best selling for around £3,500.
Chris said the family may start to sell a few breeding heifers in the future, but all the best heifers are retained as part of efforts to expand the herd.
The rest of the calves are sold at Dingwall Mart at around 10 months old when they average 350kg liveweight.
Chris said: "The price was seriously back in October at 228p/kg, compared to January when they were 280p/kg."
He blamed this price drop on the price of straw jumping from around £26 to £40 per big bale, and said: "We get hit twice when a commodity like straw goes up in price.
"We have to spend more to manage our herd and buyers are reluctant to spend as much on their calves. I calculated it costs me 70 pence in straw for every kg in calf weight."
However, despite these challenges, Chris is confident Limousins are the right breed for the farm.
He said: "Our philosophy is that if we are going to the expense of housing cattle, then we have to make sure we can meet the market specification.
"Our calves have the genetics to grow and are efficient at converting feed."
Cattle at Strone are calved all year round, despite advice to change the calving system from the Monitor Farm Group.
The Camerons believe this system best suits their farm and say they are still able to keep individual cows' calving index to under 370 days.
Another benefit is the need for fewer bulls, meaning they can afford to spend more when they do invest in a bull.
Chris said the only challenge is grass utilisation as there is not enough grass to turn out a batch of 50 cows and calves in the spring.
Less than 125 acres of grass on the farm is suitable for cutting silage, so the family has to manage it carefully.
Dry cows can make use of a further 125 acres of marginal land, but none of the cows go up the hill, and cattle are housed from October to May.
Following advice from the monitor farm project, heifers are now bulled four months earlier at 15 months and spring-born calves are weaned and managed separately to allow cows more time to recover before calving again.