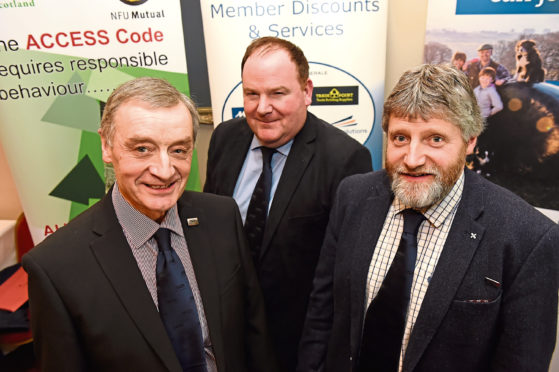 An Aberdeenshire farmer in the running for one of the top jobs at NFU Scotland (NFUS) has pledged to cut back the scale of his business, if necessary, so he can commit 100% of his time to the job.
Alford farmer Charlie Adam, who currently serves as the union's livestock committee chairman, made the pledge during a hustings at the Kintore Arms, Inverurie.
He is one of three candidates standing for two vice-president jobs at NFUS.
The other two are current vice-president Martin Kennedy, who farms near Aberfeldy, and combinable crops committee chairman Ian Sands, who farms at Balbeggie, Perthshire.
All three candidates, who took to the stage to woo the packed-out farmer audience, were questioned on their ability to commit time to the job.
Mr Adam said he was confident help from his wife and a neighbouring share farmer would free him up to carry out the vice-president duties, but added: "I would cut down my business for the duration of this job so I can put this job first".
He called for better communication, both within the union and also between the farming industry and consumers, and suggested the creation of an associate union membership for the public.
Current vice-president, Martin Kennedy, argued he had shown his ability to fulfil the job's duties in the past two years and said he wanted to continue his work lobbying for the creation of a new farm support system better suited for Scot-land's needs.
He said: "I believe I have put a fair shift in over the last two years and I am not finished."
He also pledged to lobby for a continuation of Less Favoured Areas Support Scheme (LFASS) payments, or an equiva-lent, in the future.
Lastly, Ian Sands said he was confident he could leave the management of the business to his son and commit his time to the role, if elected.
He called for better promotion of farming to the general public and for more to be done to promote the next generation of farmers and farm workers.
Mr Sands said: "An element of society has blamed us for more and more of the environmental problems. We may not be perfect but we don't always get the credit for what we have already done and continue to do to sustain and improve the environment."
Members of NFUS council – a body made up of representatives from each of the union's 73 branches – will select the two successful candidates at their annual meeting in Glasgow next month.