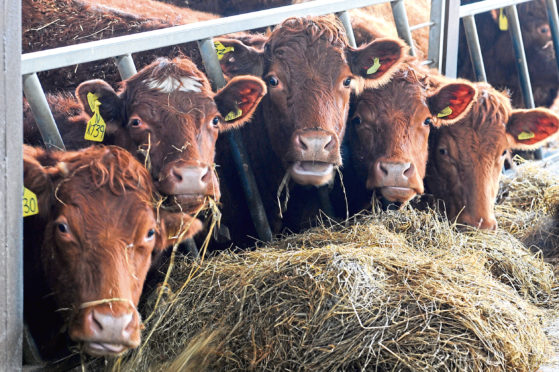 A number of farmers and crofters participating in Beef Efficiency Scheme (BES) have been sent warning letters in error.
The administration blunder, by the Scottish Government, relates to farmers being told they were in breach of BES requirements to enter the weights of their cattle into the relevant section of the ScotEID base.
The £45million BES scheme was launched in 2014 in a bid to improve the efficiency of the Scottish beef herd.
It requires participants to undertake several activities including tissue sampling, weight recording and collecting calving datas.
NFU Scotland (NFUS) said although some of the warning letters issued to farmers were genuine, many were incorrect and government is now writing to those affected to clarify the situation.
Union president, Andrew McCornick, said some members had been asked to collect tissue samples over and above those actually required by the scheme rules.
"The Beef Efficiency Scheme has always been one backed by the sound principles of improving the productivity of the Scottish beef herd, while providing support to hard-working farmers and crofters," said Mr McCornick.
"However, the recent errors involving the recording of weights and tissue sampling will have further soured the experience of participating in the scheme.
"Moving forward, we hope that the scheme administration can be improved and that the Scottish Government will dedicate the necessary resource to provide a high level of support to beef producers taking part in BES."
A Scottish Government spokeswoman said: "We regret any inconvenience caused by the warning letters that were issued in error. Swift action has been taken to contact every producer affected, to apologise and provide clarity about the situation.
"Looking forward, the Scottish Government is committed to working with the NFUS and others to support the beef sector, building on the experience of the BES."