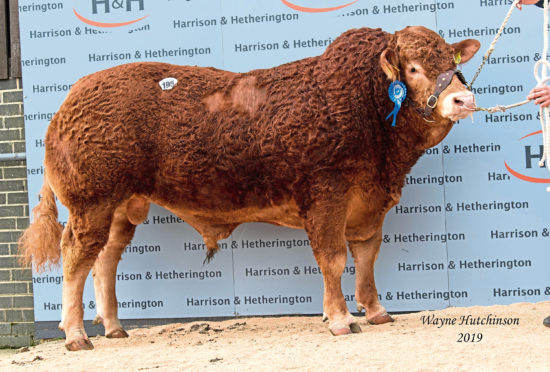 Limousin bulls sold to a top of 50,000gn at the breed's show and sale at Carlisle on Saturday, where 108 bulls levelled at £6,372.36 and 15 broke the five-figure bracket.
A clearance rate of 76% was achieved when 108 of the 142 bulls forward sold.
Sale leader was the second prize bull, Cloughhead Neville from brothers Thomas and Philip Hutton, who run 90 females near Keswick, Cumbria.
Securing a personal best for the Huttons, who previously sold a bull at Carlisle for 42,000gn, was the 20-month-old son of the French sire Gultime – a bull bought privately as a calf seven years ago.
Bred out of the Wilodge Cerberus-sired Cloughhead Hogmanay, he sold to Christine Williams and Paul Tippets of the Wilodge herd.
Ian Handley's 55-cow Gunnerfleet herd from Ingleton, Lancs, sold sons of Ballinloan Jaegerbomb for 17,000gn, 12,000gn and 11,000gn.
Dearest was the junior champion, Gunnerfleet Next – an 18-month-old bull out of Gunnerfleet Jelomie – which sold to Jimmy and Donald MacGregor of the Dyke herd at Milton of Camspie.
Selling for 12,000gn to Messrs Richardson, Low Garth, Cockermouth, was the 17-month-old bull, Gunnerfleet National, while the similarly aged bull, Gunnerfleet Navigator, made 11,000gn to Columbjohn Farm Ltd, Exeter, Devon.
Bulls from Bruce Goldie's 70-cow herd at Mouswald, Dumfries, peaked at 16,000gn twice.
First at this money was the reserve intermediate and reserve overall champion, Goldies Novelty by Ampertaine Gigolo, which sold to Neil and Stuart Barclay, Harestone, Banchory, who also bought four heifers the previous night to a top of 6,000gn.
The other first prize winner, Goldies Nelson, by Goldies Juggler, sold to Messrs Lear, Creslow, while Messrs Humphreys and Son, Kent, paid 10,000gn for Goldies Nevelle.
Aberdeenshire breeders Andrew and Jim Gammie of the 25-cow Westpit herd at Drumforber, Laurencekirk, sold two full brothers for 14,000gns and 13,000gn.
By Dinmore Immense and bred out of the 5,800gn Brockhurst Holly, dearest was the second prize winner, Westpit Nevada which sold to Messrs Thomspon, Melmerby, Penrith.
The reserve junior champion, Westpit Nashville, which stood overall senior champion at the Stars of the Future Calf Show in November, was bought by Redpath Farms, Heiton, Kelso.
Another son of Ballinloan Jaegerbomb, this time Stephen Nixon's intermediate bull Huntershall Nando from Hunters Hall, Wigton, went under the hammer for 12,500gn to Messrs Forster and Son, Hexham.
Just behind at 12,000gn was Mark Stewart's junior bull, Lenagh Nitro from Co Antrim.
Second in its class and an AI son of Cloughhead Tommy, he sold to Messrs Cairns, Tollerton, Nottingham.
Matt and Craig Ridley of the Haltcliffe herd near Wigton, paid 11,000gn for Robert and Jean Graham's first prize junior bull, Grahams Nathan.
He is an ET-bred son of Claragh Franco.
Matching that price was pen leader and red ticket winner from Henry Savage's Trueman herd, Co Down.
This was Trueman Neptune, by Mereside Lornezo, which sold to Messrs Neachell and Son, West Midlands.
A further two bulls came under the hammer at 10,500gns including Steven Wilson's Impulsive Niall from Carlisle, which sold to Messrs Richardson Ltd, Richmond.
Greystoke Castle Farms, Penrith, paid the same for Homebyres Nisbet from the Logan family at Humebyres, Kelso.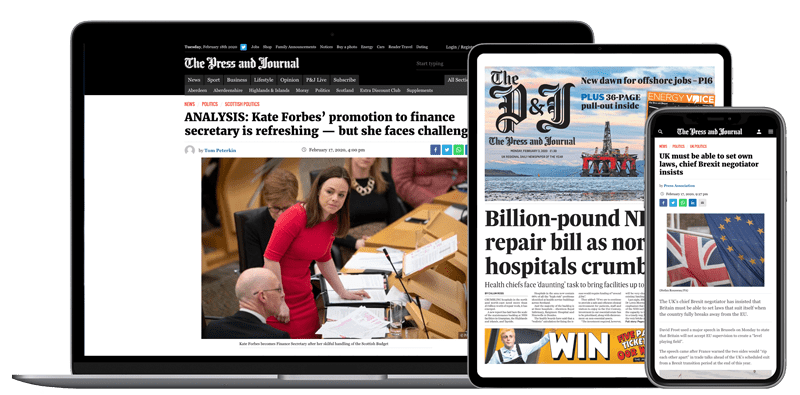 Help support quality local journalism … become a digital subscriber to The Press and Journal
For as little as £5.99 a month you can access all of our content, including Premium articles.
Subscribe