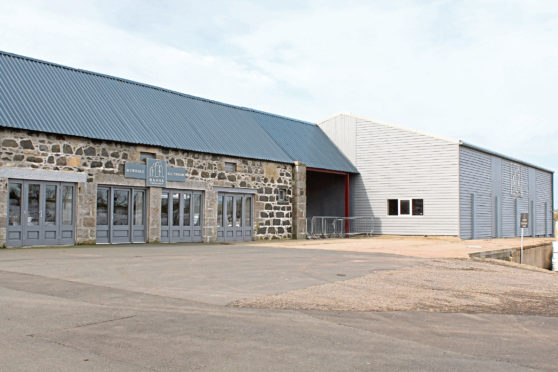 Barra Berries has doubled the size of its soft fruit processing capacity as the family-owned business shrugs off the uncertainty it faces due to Brexit.
David and Sarah Stephen, who have developed a farm shop, lodges and an event venue with a panoramic view of Bennachie on the Barra Farm in recent years, have further expansion ambitions.
The couple plan to extend the Barra Berries shop and cafe to meet growing demand among visitors and tourists keen to taste the fruits of the Aberdeenshire larder.
The potential for cruise ship tourism when the £350 million South Harbour development is complete, due in 2020, is also a consideration of the growth plans.
The Stephens have expanded area dedicated to growing strawberries, raspberries and blackberries from 20 to 30 acres.
The farm usually employs 70 workers in its busy soft fruit growing season, with several hailing from EU countries.
As the pool of migrant workers has decreased, the Stephens have resorted to using employment agencies to recruit staff in the last 12 months which has increased the overall costs.
Mr Stephen believes the current uncertainty is to blame for workers' reluctance to commit to UK working opportunities.
Nevertheless, he said agencies have told him they are confident of being able to provide staff following the March 29 Brexit deadline.
He said: "If I look at this from the perspective of the individual who is considering employment in the UK – they will understandably be asking: Will I be welcome? What documentation do I need? How will the weak currency affect my income? At the moment no one has these answers."
Barra Berries, near Oldmeldrum, has invested tens of thousands of pounds in its new chill unit. The 174 sq metre refrigeration area was supplied by Clancool in Kintore.
Mr Stephen said: "The new chill will make our product better and provide a more professional packing area. It doubles the size of our capacity for chilling fruit and we will be able to do it faster."
Likewise, Mrs Stephen, who in addition to her role at the farm is also a broadcaster, said the business would continue its focus on diversification.
Its events venue has been trading for its first full year and the next area of focus will be expanding the shop.
She said: "Although the bread and butter of the business is still very much the traditional agricultural side of things, it's important to us to have a diverse portfolio of business interests."