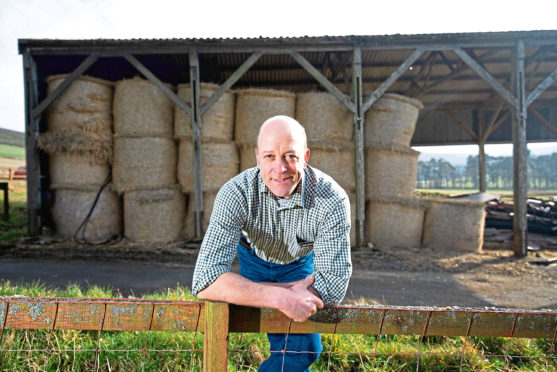 A small Aberdeenshire farm is set to play a big role in bringing vastly improved internet connectivity to some of the area's most remote agricultural holdings.
That's the plan being pursued at Oldmanse Farm, Glass, Huntly.
The 25-acre unit has been chosen as the location for an off-grid base station, installed as part of an SAOS-backed trial to test the feasibility of establishing Long Range Wide Area Networks (LoRaWAN) in Scotland.
"The internet strength here isn't too bad but probably no more than two miles up the valley there's no signal at all," said Oldmanse owner Alistair Robson.
"If LoRaWAN enables our signal here to be extended up the valley, then it should be possible to bring good connectivity to every field in every part of Scotland."
Having used calving sensors himself to keep an eye on his cows while he was employed at a previous 'day job', Mr Robson is already a convert to the digital age of farming.
He also supports the drive to improve internet connectivity on Scottish farms, which is where the Oldmanse base station fits in.
"It will be wind and solar-powered and will have a self-contained battery pack," he said.
"Fitted with its own LoRaWAN antennas, the unit is also designed to carry a 4G or 5G module for where these don't exist, serving farms throughout any remote area."
He said provided everything works, the potential for sensor technology on Scottish farms, particularly in relation to livestock, was as big as your imagination will allow.
"The one I used when I spent my days employed at an oil industry workshop unit in Dyce certainly worked well for me," added Mr Robson.
The sensor in question, which was designed to fit on to a cow's tail, was equipped to pick up any increased tail movement prior to calving, at which point it was programmed to send an alert to Mr Robson's mobile phone.
"I'd agreed with my employer that I would go home immediately under such circumstances, although I also had a neighbour who popped in to check it wasn't all just a false alarm," said Mr Robson.
Now self-employed, providing technical support for farmers, he no longer needs the sensor, having gained more flexibility over his work during calving times.
"I also only have five cows to look after, so calving isn't an extended pressure," he said.
"For people like me then, however, with two jobs and an employer to keep happy, or large-scale farmers with time and staff resources to manage, sensors are going to be massive."
Mr Robson said existing sensors already enabled calves to be closely monitored by checking if they are all eating from feeders and sounding an alert if one animal goes missing from the screen.
"You can also put temperature sensors on stock, again triggering an early alert if something is wrong with an individual animal," added Mr Robson.
"That's far better than spending a lot of time looking for danger signs in a shed full of cattle, especially as there's always the temptation of deciding to take another look at a suspect calf at lunch-time.
"Then, when you actually arrive back at 4pm, the damage could well be done."
In addition to helping trial the off-grid unit, Mr Robson's five cows will also be fitted with Ultra High Frequency tags, enabling them to be part of a sensor test.
"Through my contracting activities, I'm helping install UHF technology into marts and abattoirs in Scotland, as part of the ScotEID development," he said.