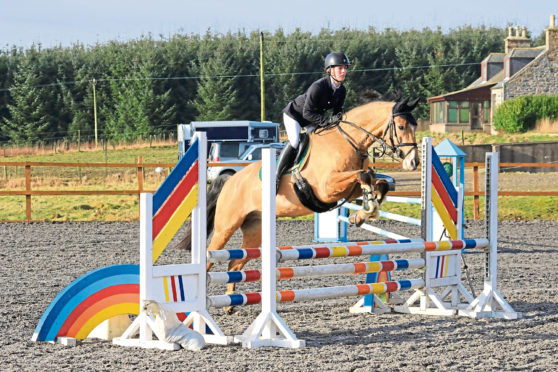 Spring was in the air at The Cabin Equestrian Centre's three-day British Showjumping Show.
With a fabulous weather forecast, the decision was made by course designer Di Beaumont to move the showjumping to the outdoor arena, delighting both riders and horses and attracting record entries for the time of year.
Heading the senior 90cm open was BE trainer and well-known coach Sue Hendry, from Echt, on her 22-year-old former driving pony Tomahawk.
The day brought mixed emotions for Sue, as the first place win on their trademark tight turns was Tom's retirement performance. This long-term partnership have been in the top three placings in 92% of their classes.
The Cabin Riding Club awarded a special commemorative trophy to Sue and Tom to mark his retirement and their achievements.
Sue has had the 14.2hh Tom since he was four, buying him to drive as she had been forced to give up riding due to hip pain.
He drove successfully as a single pony both in Australia and the UK, being long-listed for a place in a British team at a world championships.
Sarah Gibb, from Clola, used the show to BS debut her young horse Fearless Attic "Frodo", delivering two double clears to take both the Club Senior 80cm classes.
Frodo (original name Ehad Shael) is a five-year-old Russian Akhal Teke, a breed known for speed, endurance and having an unusual metallic sheen to their coat.
More accustomed to being in the dressage spotlight, freelance coach and rider Victoria Gladwyn took the Senior British Novice tile on rising nine-year-old 17.1hh Oldenberg Sonnerstead, by Stedinger (x Donnerhall).
Sonny is competing under Victoria to FEI Inter I aiming for Grand Prix.
Daviot eventer Caitlin Padfield headed the Connolly's Red Mills Senior Newcomers on Quincy IV – one of only two double clears in the class.
The partnership went on to deliver their second double clear in the Equiptop Myoplast Senior Foxhunter, narrowly behind Declan Irvine on Diamond Z Forres rider and keen eventer Rosie Pindar – based at Burgie Eventing Centre – headed the Foxhunter on Hanleen Beatrice.
And while 13 may be an unlucky number for some, for Coatbridge rider Declan Irvine this was the number of top six placings he achieved.
This included a hatrick of firsts – on Red in the senior 80cm, on Diamond Z in the Foxhunter, and on Dragon in the 1m 30.
John King headed both 1.15m Members Cup Qualifiers on Turlood Errigal Touch with James Scullion clinching the class on the third day on Dimonte L.