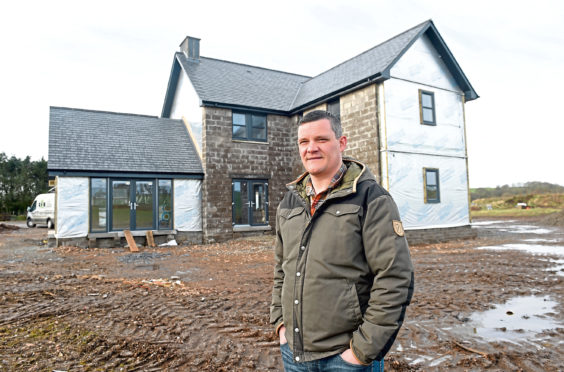 Farmers and crofters in the north of Scotland are bucking the trend with self-build homes.
According to the National Custom and Self Build Association (NaCSBA), more than 13,000 custom and self-build homes are built annually in the UK.
And while in Scotland the availability of land in the north and north-east is helping aid this trend, in England a complex system of registration for self-builders has stymied growth.
Paul Alexander, head of business development and strategy at the Scottish Building Society, which offers self-build mortgages, said the Highlands and Islands, Aberdeenshire and Angus were the most popular places for self-builds due to land availability.
Graeme Gammie, a farmer's son from near Inverbervie, has accessed a special self-build mortgage to build his timber-frame five-bedroom detached house.
The mortgage allows him to draw down funds as required for each phase of the project, which is expected to finish at the end of April.
"There are other houses planned on my dad's farm as part of a small development and I therefore got a great deal on the land," said Mr Gammie.
"Getting planning permission was relatively easy and straightforward as the build fell within the guidelines set by the local authority."
He recommended the use of a self-build mortgage, but said not enough were available on the market.
"The problem with self-build mortgages is that it is few and far between in terms of the companies that are available to provide that sort of lending," added Mr Gammie.
"Most of the banks just don't do it.
"I basically had to look into it myself as the diggers were starting."