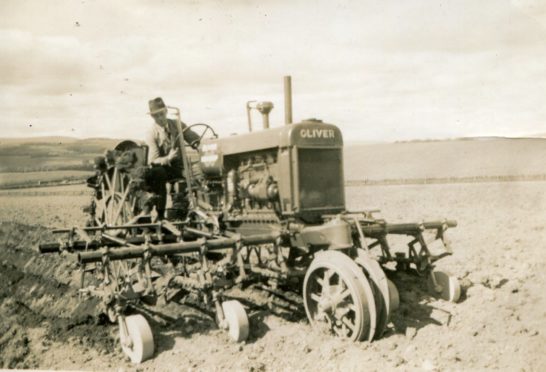 Ninety years ago, the world's leading plough manufacturer merged with one of the leading pioneers of tractors and two other smaller companies to form the giant Oliver Farm Equipment Company. Pete Small looks back on the company's story..
During the first half of the 20th Century, the holy grail of many farm machinery manufacturers was a full line of equipment which included cultivation, seeding, forage and harvesting equipment and, by this time, tractors too.
In some cases full line concerns would also offer things such as refrigerators, safes and push bikes.
It was thought by offering everything for farmers in one place, they would not stray to their competitors' showrooms.
To achieve a full line, some firms would design their own machinery to fill the missing product gaps.
However, in many cases, buyouts and mergers became the order of the day to get hold of proven equipment and a skilled design and manufacturing base.
This was the scenario for the Oliver Farm Equipment Company.
---
The Oliver name was well known worldwide as a manufacturer of ploughs since 1855
---
The Oliver name was well known worldwide as a manufacturer of ploughs ever since Scottish emigrant James Oliver set up the Oliver Chilled Plow Co at South Bend in Indiana in 1855.
This was a large concern wanting to have a line of the newly proven tractors to offer customers.
Having taken note of the success of the likes of International Harvester, JI Case and John Deere and wishing to emulate these three giants of US farm machinery manufacture, Oliver began to design its own tractor.
However, this was costly and the company decided becoming involved in an existing line might be easier.
One of the original tractor pioneers who had survived and prospered was Hart Parr of Charles City, Iowa.
Formed by Charles Hart and Charles Parr in 1901, the company had produced a popular line of tractors.
Some came across the Atlantic to be marketed by the British Hart Parr Co of Peterborough, with one appearing at a HASS trial at Fordel, Dalkeith in 1922.
One of the Hart Parr directors, Sam White, had the mercurial touch of finding companies needing to forge relations with others to increase product ranges and increase financial capital and security.
So, it was he who invited the Oliver concern, which he knew was keen to add a tractor line to its offering, to attend discussions.
Joining them in the talks was another firm looking to expand its product lines. This was Nichols and Shepherd, which was a long-established manufacturer of harvesting equipment including some of the early combine harvesters and its famous Red River threshing machines.
It was even involved with tractors for a time.
On April 1 1929, the new company was agreed except for a name and as Oliver Chilled Plow Co was bigger than the other two combined, JD Oliver, son of the founder, insisted that the Oliver name be used.
Thus, the Oliver Farm Equipment Company was born.
The new concern did not rest on its laurels because within a fortnight of its creation it purchased the American Seeding Co which manufactured a range of planters, drills, manure spreaders and cultivators.
And within a year it had purchased the McKenzie line of potato machinery making the concern the fourth largest of its type in the US.
Despite the depression years of the 1930s, the company flourished with a new range of tractors being one of the most notable products.
The old cross motor machines gave way to new, stylish inline engined tractors benefiting from automotive styling and innovation.
Ploughs, of course, continued to be a mainstay while new grain drills and combine harvesters also appeared.
Further purchases occurred during the 1940s with the Ann Arbor pick-up baler line and the Cletrac range of tracklaying tractors.
Handling imports and sales of Oliver goods in the UK was John Wallace of Glasgow which held an agreement dating back many decades and this agreement remained in place for the new concern in 1929.
Large amounts of Oliver equipment, ranging from tractors and combines to seed drills and balers, arrived in the UK, either to Wallace's Glasgow headquarters before going out to their depots throughout central Scotland, or to their English base at Welwyn Garden City.
Some products would arrive at the Neil Ross Tractors depots in the north-east, which looked after Oliver tractors during the Lease Lend years of the Second World War, helping make the new brand popular in the area.