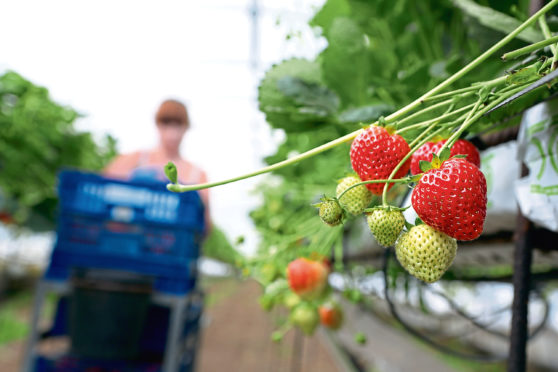 Farming leaders have demanded a post-Brexit immigration system that prioritises "as much free movement as possible" to maintain the vital flow of continental labour for the sector.
Farms across the UK have experienced a 10-20% drop in migrant workers in the years since the EU referendum and industry figures have warned that if the trend continues many farmers will either have to cease operating or downsize.
Buoyant economies in eastern Europe and Brexit have both played a role in the drop, MPs on the Commons Scottish Affairs Committee heard yesterday.
Archie Gibson, executive director of Angus seed and potato growers Agrico UK, said in the years ahead it was crucial to make migrants "feel welcome, appreciated and valued".
Mr Gibson said: "Finding locally trained people these days is increasingly hard and we depend upon many of our migrant workers.
"If we cannot get the staff approximately 42% of farms would potentially stop doing that enterprise and 58% said very likely they would downsize and change, so I don't think we can put too fine a point on it."
James Porter, of Angus Soft Fruits, echoed the point, saying: "We can't source workers at home, we need to find a way to make this work somehow because we need home grown produce, we can't import it all from abroad.
"There has to be a way to make this work somehow and I think it's fairly clear the way forward is to have as much free movement as you possibly can."
The committee also heard evidence from recruiters Concordia and Pro-Force ltd who have won Home Office contracts to recruit non-EU migrant workers as part of a pilot seasonal worker scheme.
Matthew Jarett, managing director at Pro-Force, said that the seasonal sector would be struggling to recruit "regardless of Brexit".
He said: "We've just been pulling at the same labour pool for the last four years and we need to look for the next labour pool."
Stephanie Maurel, chief executive of Concordia, told the committee that there was also a "perception problem" recruiting workers from the EU for Scotland.
She said: "We will get a worker in Bucharest coming into our agent's office and saying I will do anything but I won't do strawberries and I won't do Scotland, they may have never been to Scotland before and yet in their mind they earn less or won't be treated as well in Scotland.
"This is not the case and we have got videos and leaflets but there's still a really strong mindset."
Both bosses told the committee that there was "real interest" from workers in Ukraine, Moldova and Russia.