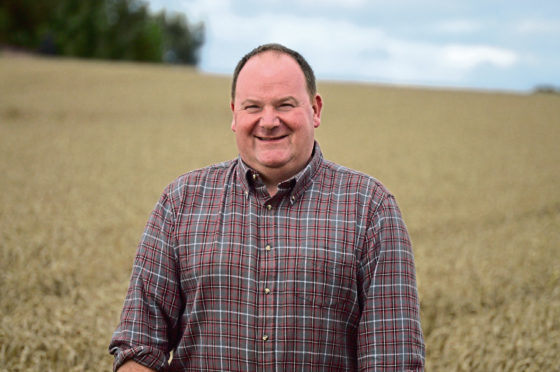 Crops across Scotland are looking good so far despite the prolonged dry spell, with NFU Scotland cereals chairman Ian Sands describing his own varieties as "charging on".
There are some concerns for growers working with sandy soils, however, who are already coping with very dry conditions and starting to struggle.
Generally, though, arable farmers are enjoying April a whole lot more than 12 months ago.
"We're dry but not crisis dry," said Perthshire-based Mr Sands.
"Both barleys and wheats are well ahead of last year with all winter crops going into a terrific seedbed last autumn, followed by tremendous establishment.
"It was the same again in the spring with another fantastic seedbed and planting done on time, certainly in Perthshire.
"Crops were checked a couple of weeks back during the cold spell but they're certainly charging on now. At the moment, I'm delighted with the way our crops are looking. The potential is there for them to yield well.
"Here's hoping that continues as, while we've no real shortage of moisture yet, a few more weeks of the current weather might still make a difference."
Laurencekirk grower Andrew Moir, of Thornton Mains, is already looking for a shower to help things along, even though he is on reasonably heavy land.
He said: "Our crops are looking well generally but the spring varieties are needing a shower. We've had a pretty dry spell, of course, with March this year producing 40mm of rainfall against 145mm last year.
"We're not in a desperate place yet, but a shower wouldn't go amiss. Having said that, you have to be careful what you wish for when it comes to rain in this area."
In Easter Ross, Donald Ross at Rhynie Farm, Fearn, is also pleased with progress to date with winter wheats about a week to 10 days away from their T1 spray and oilseed rape just coming into flower.
He said: "We still have a wee bit of moisture here although time will tell. Hopefully we won't get too dry a season. Certainly, anyone's that farming sandy soils is going to be coping with very dry conditions already and starting to struggle.
"Thankfully, we had a touch of moisture in Easter Ross last week which definitely helped."
All three growers were also generally happy with crop health so far, with no major disease issues to worry about.