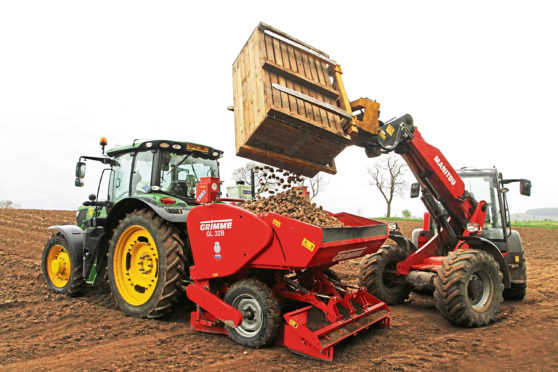 Scots potato growers are getting on with planting at top speed this year and not pausing to take too much notice of levy body AHDB's comments that British potato stocks from the 2018 crop are currently 13% down on the five-year average.
According to NFU Scotland potato committee chairman, Peter Grewar, the levy body's estimate is produced by using "pub yields" from growers and hasn't been accurate for years.
Allowing for a margin for error of +/-9.9% as at the end of March, he said stocks in reality are likely to be -9.9% or even less than the AHDB estimate.
As with most other growers in Scotland, Mr Grewar is much more interested in the progress of his new crop planting and the distinct lack of moisture in some areas.
"Planting here is earlier than last year but still later than average across the UK," he said, adding that drought is the main thing on industry minds at the moment.
"Here in east Perthshire, for example, 15 out of the last 18 months have been drier than average and we have had very little rain in April so far.
"We are gearing up for an early and busy irrigation season."
Banffshire grower Graham Twatt, Easter Cushnie, said similar, commenting that planting was going at a tremendous speed with 25% of his 300 acres of seed-for-export crop already in the ground.
He said: "Last year we didn't even start planting until April 26.
"The ground is in fantastic condition but it is very dry. We're definitely needing some rain."
John McWilliam, farming Haughhead, Laurencekirk, is even further ahead with 75% of his 150-acre seed crop planted into what he described as "some of the best conditions" he'd ever experienced.
He said: "We're on heavier land than some areas, however, and it's surprising how much moisture there is below the surface. Our planting conditions are next to ideal, therefore.
"Having said that, when it's as dry as it is at the moment, it is a worry how it's going to be for the rest of the summer."
Back with AHDB, analyst Aidan Wright said: "As we move into the new season, all eyes will be on the early crop.
"Thanks to the clement weather experienced so far, planting is progressing well and conditions are looking good across the country, although the general lack of rainfall is an ongoing concern for some regions."