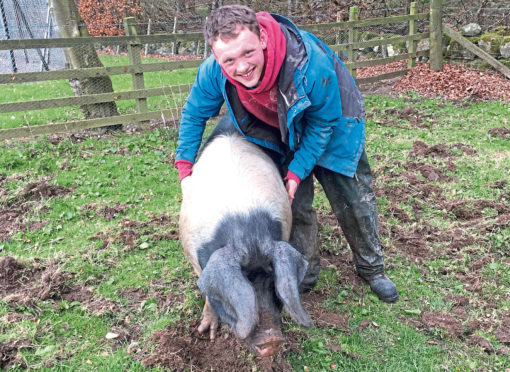 A Scottish agriculture student has won a top UK award for his rare breed pork business.
Ian Buchanan – a fourth-year student at SRUC's Aberdeen campus – is this year's recipient of the Farmers Club Pinnacle Bronze Award for his Rootin' and Roamin' business.
The competition invites agricultural students from across the country to demonstrate innovative applied business projects to a panel of judges.
Mr Buchanan, who hails from Kinross, was praised by judges for giving "realistic costings and detailed market analysis" about his business, and explaining his plans to maximise revenue by selling key cuts through farmers' markets and a proposed farm shop.
They said the project had strong branding and a good provenance story.
Following his award win, Mr Buchanan said: "I am very pleased with the outcome and feel that the other winners definitely deserved to win."
SRUC's Masters programme leader, Caroline Daniel said: "There was an extremely high standard and interesting variety of business ideas presented for the Pinnacle Awards, from conservation grazing management to mushroom and mead production, so Ian was up against stiff competition to win the bronze award.
"I wish him every success for the future with his small but growing business and hearty congratulations on his well-deserved win."
Chairman of the judging panel and former SRUC principal, Professor Bill McKelvey said: "It was very interesting to see the younger generation coming forward with new projects ideas and thoughts.
"It really is very encouraging to know the industry is in good hands going forwards."
Mr Buchanan was one of three SRUC students selected for the final.
"The others were third-year students Julie Mackenzie and Charlotte Bailey, who are studying rural business management at the Ayr campus.