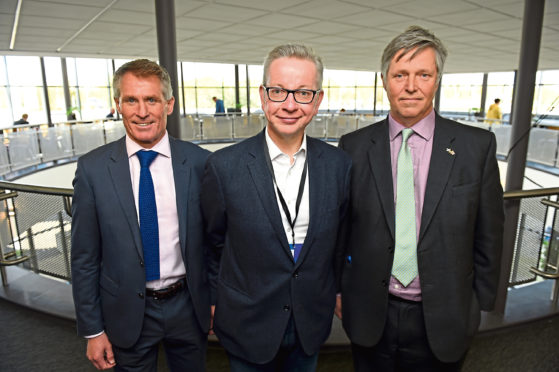 The Scottish Government was yesterday accused of lacking vision for future agricultural policy after Brexit.
The comments were made at a fringe event, organised by NFU Scotland (NFUS), at the Scottish Conservatives annual conference in Aberdeen.
Edward Mountain MSP, who is convener of Holyrood's rural economy and connectivity committee, said the Government's vision for post-Brexit agricultural policy was "no more useful than a pair of wellies with holes in them".
"At the moment the Scottish Government does not have a vision for the future of farming," he said.
"What they have is a system of taskforces to stop them having to make decisions."
NFUS director of policy, Jonnie Hall, said: "In many senses there is no vision in Scottish Government in terms of where it wants to be [with future ag policy]. We do look south of the border and at the Agriculture Bill and see, whether we agree with it or not, there is a direction of travel.
"We don't think it would be the perfect fit for Scotland's needs, but never the less in England, in particular, they know the game they are playing and what is going to be asked of them. We have not got a clue at the moment."
Defra Secretary of State, Michael Gove, was also critical of the Scottish Government and its decision not to take powers in Westminster's Agriculture Bill.
He said: "The only document that the Scottish Government has produced on the future of agriculture is a defence of the status quo for the next couple of years with no clear articulation of the way forward.
"It looks as though the Scottish Government has neglected and taken for granted rural Scotland. Its approach towards agriculture, and its approach to the rural economy, has been far more about generating grievances to articulate the case for independence than it has been about engaging in a practical way with the real needs of Scotland's primary producers and Scotland's food and drink industry overall."
An SNP spokeswoman said: "Michael Gove has a cheek – it is the Tories who are neglecting rural Scotland and who took £160 million in EU funding that was intended for Scottish farmers and crofters and distributed it across the rest of the UK instead.
"The SNP Government is delivering for our rural communities, with spending on agriculture, fisheries and forestry far higher per head than it is south of the border."