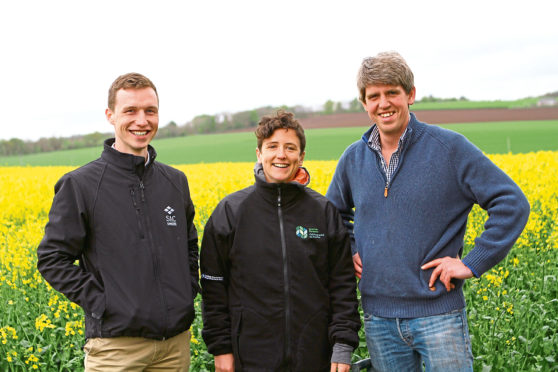 Practical steps to help Scottish growers respond to climate change concerns and drive low-carbon, environmentally sustainable practices were launched on a farm in Angus.
A group of five progressive arable farmers has been formed to trial and develop new ideas under the Scottish Government's reformed Farming for a Better Climate (FFBC) programme.
It has been underpinned with funding of £130,000 a year for three years.
Rural Affairs Minister Mairi Gougeon spent the morning on Hugh Black's Backboath Farm at Carmyllie, Angus, where she announced that FFBC would be refocused on soil-regenerative agriculture, including soil, fertiliser, manure management and carbon sequestration.
She emphasised that the focus would be on collaboration and maximising the opportunity for testing innovative solutions in a variety of situations.
Mr Black welcomed the knowledge-based approach as essential for the industry and warned of a growing number of quack salesmen jumping on the climate change bandwagon.
"There are a lot of people out there selling brown water," he said.
"There can be two a week turning up offering soil 'inputs' and they often don't even know what's in them.
"We need to protect against that with our own knowledge because there will be people out there who are sucked in by the sales pitches."
He pointed out that the group that have come together for this project have different enterprises and crops but they all share the same challenges and recognise the need to gather more learning around soils and how best to manage them.
He added: "The whole challenge is not to drop income but to get the fixes right quickly and efficiently rather than make drastic change and hurt our businesses."
In addition to Mr Black the group includes Laurencekirk soft fruit producer Ross Mitchell of Castleton Farm, who recently started minimum tillage and direct drilling; Douglas Ruxton of Mossside of Esslie, Laurencekirk, who has been strip-drilling for six years; James Hopkinson of Arable Ventures near Kirriemuir, who is direct-drilling; and Ben Barron from Coupar Angus, who has entered his fourth season of direct drilling.
SAC Consulting will manage the programme and disseminate information learned through digital media, Twitter accounts, case notes and links with the Farm Advisory Service rather than expecting farmers to take time out of their businesses to attend open days.