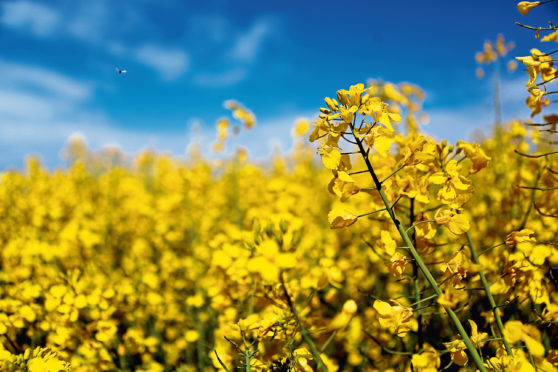 UK oilseed rape growers could be losing up to £160 million due to temperature rises in winter, according to a new study.
Research, carried out by the John Innes Centre and published in Scientific Reports, reveals a one degree temperature rise between late November and December could result in losing up to a quarter of oilseed rape crop yields.
Based on analysis of climate and yield data for the past 25 years, the researchers calculated that temperature variation during this critical time window could lead to losses of up to £160m.
Professor Steven Penfield – a lead author of the study – said oilseed rape requires a prolonged period of chilling, known as vernalisation, for the plants to flower and set seed.
"Wide variations in oilseed rape yield is a major problem for farmers so we looked at links to temperature to see whether rising temperatures could have an impact on yields," said Prof Penfield.
"We had observed there was an effect; what is surprising is the magnitude of the effect we found."
He said the study showed chilling of the crop in winter was really important for the development of a high yield.
"But it's not just winter in general, it's a specific time from late November and through December. Our data showed that even if it's colder in January and February, it doesn't have the same effect on yield," added Prof Penfield.
He said there had been improvements in UK oilseed rape yields in recent years, however these had not been accompanied by yield stability with year-on-year variation accounting for up to 30% of crop value.
Prof Penfield said as part of the study, researchers ranked oilseed rape varieties according to the stability of their annual yield, and further genetic analysis showed the trait of yield stability was not correlated with yield.
"This means it should be possible to breed for yield stability and high yields together without having to sacrifice one for the other," concluded Prof Penfield.