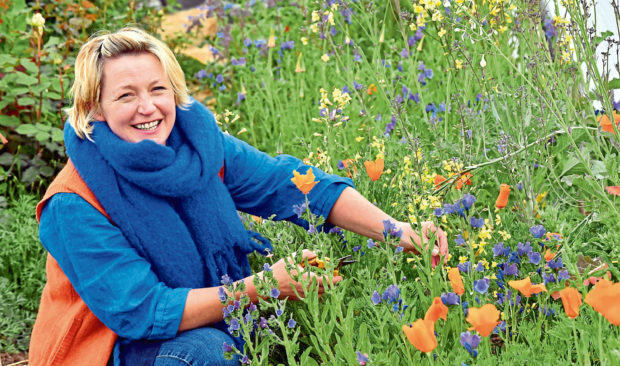 Faced with the challenge of identifying a viable range of diversification options for their 140-acre farm near Inverbervie, Ailsa and Jan-Georg Van Rooyen decided to include flowers in the mix.
They are now members of a Scottish network of 60 "Flowers from the Farm" growers who are striving to reclaim the cut-flower market from imported suppliers.
Go back 50 years and British cut flowers dominated the domestic market with imports known at the time as "exotics".
Today, the opposite is true with 90% of the flowers sold through UK florists, supermarkets and wholesalers being imported.
The bulk of current supplies come from Holland, alongside planeloads of product arriving each day from growers as far afield as Ecuador, Colombia, Kenya and Ethiopia.
British-grown flowers have consequently become the new exotics, at least for the time being.
With close to 600 farm-based growers now operating across Britain, however, including an expanding 60-strong membership in Scotland, the buy-local option is starting to increase again, coinciding with today's rising public focus on the need to further reduce the air miles content of what we buy.
For Ailsa, current output from Sillyflatt Fare, Flowers and Gathering, located at her family's Sillyflatt Farm, is based on a relatively modest one-acre plot of cut flowers, with the three-year-old venture running alongside the production of farm eggs and geese for the Christmas market.
There are also plans to open a wedding barn on the farm, ideally with the bride's flowers being grown in the adjoining field.
"Sillyflatt has been in my family for the last 70 years but, like many other units of this size, needed to embrace diversification in order to have a future," said Ailsa.
"Since taking over from my dad about three years ago, therefore, we've been working on a variety of business ideas and ventures.
"I was personally looking for something I could run close to the farmhouse which would fit with the demands of our young family and which I'd enjoy working on."
She said one diversification option was to grow herbs but this was ruled out as the family decided that plenty of people were already doing that in the local area, and doing it well.
"Growing flowers to provide people with more local buying options then emerged as an attractive proposition," said Ailsa.
"It also seemed to be a positive move in terms of providing an alternative to the import-based business which has developed in recent years."
Born and bred at Sillyflatt, which has been a venue for music festivals and barn dances in recent years, setting up and running a diversified venture was a logical move for Ailsa, and one which she is enjoying developing.
"We're now in our third year of flower production and it's going well," she said.
"Although we're still working with a relatively small area, we are expanding a bit this year and may expand further in the future. We probably won't go beyond double our current size, however, as we see flowers are just one part of our total business."
She said while flowers were a valuable part of the business, she didn't ever see them becoming the family's whole business.
"Our business model is based on growing lots of different flowers but in relatively small amounts for each type," said Ailsa. "I don't aim at the wholesale market, where buyers tend to like large numbers of a few items, but prefer to deal direct with the final customer, providing everything they need for a wedding, for example, or for other special occasions."
Flower production at Sillyflatt runs from spring to Christmas, finishing the year with offers of Christmas wreaths and decorations, before shutting production down until the next spring.
"I love growing dahlias; they're my main ones," said Ailsa.
"There are so many beautiful dahlias to grow these days.
"I know some people think they're old fashioned but that is definitely not the case any more. They're also great 'work-horses' within a display." She said she also enjoys growing tulips in the spring, however they are a pretty short season for the business.
"Foliage production is another key part of what we do," said Ailsa.
"We produce really good foliage in Scotland, with its general hardiness. It's important to add, however, that producing good foliage actually costs as much to grow as flowers, even though people think it's a cheaper option.
"At the end of the day, though, having good foliage can really make an arrangement that bit extra special."
Working with customers, for Ailsa, is an entirely flexible process, ranging from providing flowers for people to work into their own arrangements or doing the whole thing herself.
She does have one "red line" however.
"If I'm working with a bride, for example, then it's obviously up to her what she wants, including whether or not she wishes to blend my flowers with supplies from other sources," said Ailsa.
"Having said that, I would really only be happy for such blending to be with other British-grown flowers and most definitely wouldn't be prepared to buy product in from overseas to meet an order."
Scotland's Flowers From The Farm members will have a stand at next month's Royal Highland Show for the first time.