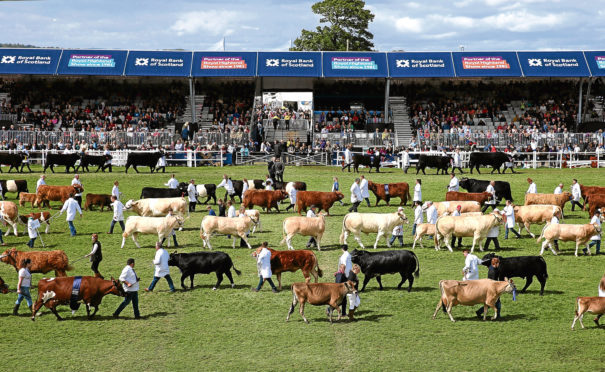 Livestock entries are up for next month's Royal Highland Show.
Organisers the Royal Highland and Agricultural Society of Scotland (RHASS) say just over 1,100 beef and dairy cattle are forward for the show.
Entries of Highland Cattle are up 17% to 93, while Shorthorns boast the largest class in the beef section with 117 entries. Hereford entries are up to 65, from 54 last year, and entries of Galloway, Belted Galloway and British Blue have increased to 39, 44 and 67 respectively.
Dairy cattle entries have increased to 114, with the Ayrshire section set to be the biggest with 40 cattle forward.
Sheep entries are at a 10-year-high with 2,128 forward, including 182 in the Texel section and 174 in the Beltex class.
Other sections with increased entries include the Suffolks, Hampshire Downs and Blue Texels with 118, 58 and 78 respectively.
Beef and sheep young handler entries are up to 21 and 67 respectively.
RHASS chief executive Alan Laidlaw said: "We continue to see very strong entries with increasing numbers across several classes.
"The show continues to be the leading event for showcasing the very best the livestock industry has to offer, and it is extremely rewarding that the industry continues to recognise its importance as a key platform for the sector."