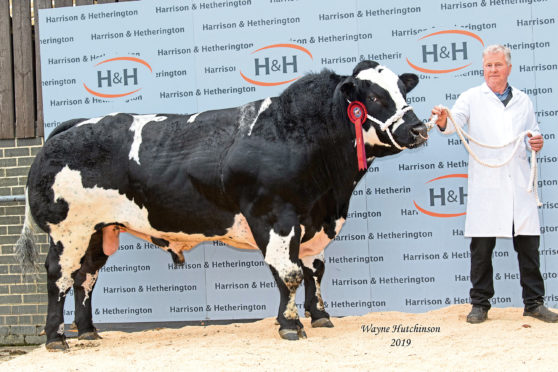 British Blue bulls peaked at 20,000gn at the Border British Blue Club's spring show and sale at Borderway Mart in Carlisle.
Leading the sale, selling to Oak Grange Estate in Ireland, was August 2016 born Almeley Lightning from GL & KS Morgan, the Cider Mill, Tillington, Herefordshire.
An ET son of Drybarrows Crawdale, out of Rosemount Faith, he is a full brother to the 10,000gn AlmeleKendrick and half brother to Royal Welsh Show champion Pinnacle Hero.
Next best at 16,000gn was the reserve overall champion Dragon Blues Mike from GW & K Williams, Tynllyn, Lampeter, Wales.
A June-2017 born AI son of Phenomene de Martinpre, out of Dragon Blues Hazel, he sold to Messrs Lloyd & Co, Trefeglwys, Caerslis, Wales.
The judge – Trefor Jones from Tegfon, Gwynedd, Wales – also awarded the Williams family the title for the overall supreme champion.
This was May 2017 born Dragon Blues Mark – an ET son of Joujou de Petit Brin, out of Dragon Blues Kelly.
He sold for 15,000gn to Messrs Fowlie, Guise, Alford.
Other leading prices included 12,000gn for an 18-month-old bull from Kevin Watret's Solway View herd in Annan, Dumfries.
Solway View Monty –an ET son of Tweeddale Ironman, out of Solway View Elegance – sold to Messrs McKerrow, Nochnary Farm, Freuchie, Cupar, Fife.
Kevin Watret also made 8,500gn selling November 2017 born Solway View Moonboots to Messrs Carruthers, Rochester, Newcastle.
This one is an ET son of Solway View Firecracker, out of Broomfield Vivien.
Messrs McCallum, Tarbert, Argyll, paid 6,000gn for January 2017 born Pendle Minstrel.
Put forward by AM & E Hartley, Pendle Valley Farm Nelson, Lancashire, he is an AI son of Jalon de Martinpre, out of Tweedale Jezabel.
In the female sale, a top price of 8,000gn was paid.
The sum was paid for a maiden heifer from Kevin Watret.
Solway View Nancy – a June 2018 born ET daughter of Attribut du Fond de Bois, out of Solway View Kesha – sold to Messrs Hopkins, Brentnall, Highbridge, Somerset.
Mr Watret also achieved the second-best females price of 6,000gn for another maiden heifer, Solway View Nesha.
This time selling to Messrs Phillips, Ashampstread, Reading, she is an ET heifer bred the same way as Solway View Nancy.
The Patersons at Upper Auchenlay, Dunblane, sold to a top of 3,500gn for May 2018 born maiden heifer Auchenlay Nirvana.
By Sandyvale Jagerbomb, out of Auchenlay Ibby, she sold to Messrs McVicar, Cairndow, Argyll.
The averages were: bulls, 52, £5,938.56; served/maiden heifers, 27, £2,854.44; cow with calf at foot, one, £5,355; and embryo calves, three, £3,080.