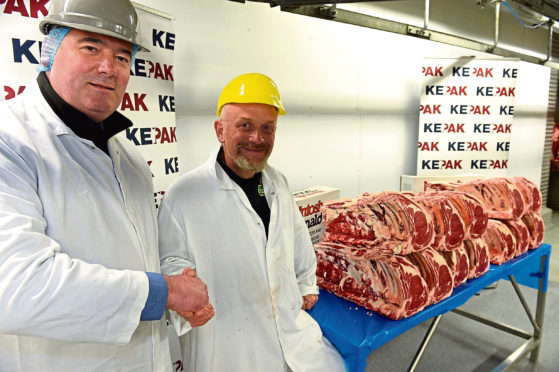 Sirloins from 12 cattle supplied by north-east producers have been selected for the annual Kepak McIntosh Donald/Tesco best Scotch steak competition at next month's Royal Highland Show.
Steaks from the sirloins will be grilled by a celebrity chef on the Tesco stand at the show on Friday June 21 and sampled by an expert judging panel.
The winner will be presented with the McIntosh Donald Rosebowl and a cash prize of £1,500.
"All the steaks were beautiful and I'll be back at the show next month to see how well they eat," said the German judge, Dirk Bubmann, master butcher with the R and S Rauch food group, who over the past five years has developed a strong market all over Germany for Scotch Beef under the Scotland Hills brand.
Cattle entered for the steak competition were required to meet the weight criteria for the Tesco Finest range of 270kg to 400kg deadweight. The entry of 160 head was whittled down to 90 from which the final 12 were selected.
Kepak McIntosh Donald site manager Alan Brown said: "They were a fantastic show of cattle but typical of the cattle we are handling on a daily basis."
The finalist steaks are from the following farmers: W Barnetson and Sons, Lynegar, Wick (Aberdeen-Angus heifer, 392.4kg, R4L); Alan Meston, Chapelton, Dunnottar, Stonehaven (Aberdeen-Angus cross steer, 370.7kg, R4L); A and P Gauld, Fawsyde, Kinneff (Aberdeen-Angus cross steers, 354.2kg, R4L); Hugh Gordon, Clochnahill, Stonehaven (Aberdeen-Angus cross steer, 309.9kg, R4L); Firm of Norman Cowie, Bilbo, Fraserburgh (Limousin cross steer, 320.2kg, R4L); Bill Henderson, Nether Toucks, Stonehaven (Charolais cross heifer, 350.2kg, -U4L); Neish Bros, Bowbutts, Strachan, Banchory (Simmental cross steer, 346.5kg, R3); J and J Watt, Stoneyhill, Inverurie (Limousin cross heifer, 331.9kg, -U4L); D and V Buchan, Savoch, Mintlaw, Peterhead (Salers cross steer, 335.2kg, R4L); R and D Farquhar, Tewel, Stonehaven (Limousin cross heifer, 326.9kg, -U4L); D Rose and Son, Taylorspark, St Cyrus (Simmental cross steer, 382.5kg, -U4L); W and J Cameron, Burnside of Edingight, Keith (Simmental cross steer, 373.1kg, -U3).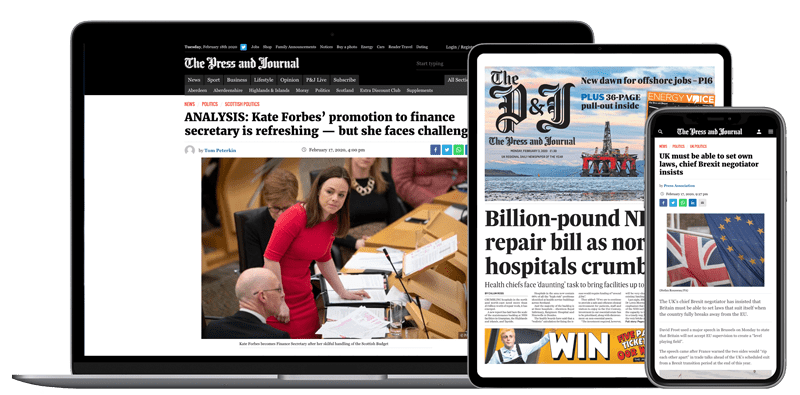 Help support quality local journalism … become a digital subscriber to The Press and Journal
For as little as £5.99 a month you can access all of our content, including Premium articles.
Subscribe