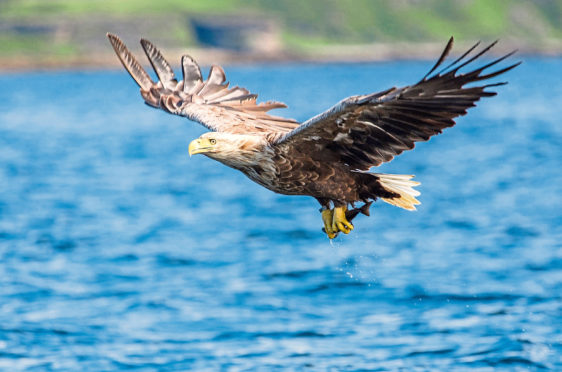 Farm and croft leaders have welcomed an admission by Scottish Natural Heritage (SNH) that white-tailed eagles kill healthy sheep and lambs.
Documents published by SNH on the management of white-tailed eagles (WTEs) state that since their reintroduction there has been a growing impact of the birds on sheep flocks on the west coast, with many farmers and crofters experiencing significant losses.
One of the organisation's monitor farms experienced the loss of an extra 181 lambs between 2012-2018 as a result of WTE predation.
The documents also stated that post-mortem examinations of a small sample of lambs killed by the birds found most of them to have been fit and healthy when they were attacked, rather than dead or unviable lambs, as was previously thought.
Both NFU Scotland (NFUS) and the Scottish Crofting Federation (SCF) have welcomed the publication of the documents and said that work must continue to develop mitigation measures.
NFUS president Andrew McCornick said: "With numbers expected to grow exponentially over the coming decades, potentially into the thousands when combining adult and juvenile birds, the impact on sheep producers will expand far wider than the current hotspots as they follow available food sources east and south.
"All modelling on populations comes with significant caveats but one has suggested that, depending on conditions, there could be as many as 900 breeding pairs by 2040.
"That means the valuable work currently being conducted by SNH staff, their contractors and farmers and crofters looking for successful mitigation measures must continue as we endeavour jointly to find solutions to the predation problem."
SCF chairman Yvonne White said there was still a long way to go before a "mutually acceptable balance" could be found between crofters managing sheep on extensive hill grazings and conservation of sea eagles.
She said: "We have had too many cases already of crofters having to abandon their use of valuable hill grazing, leading to greatly increased feed bills."
Projections of an increase in eagle numbers in the years ahead were also a concern for the SCF.
Mrs White said: "We believe more imaginative and far-reaching measures will need to be funded by government over the next five to 10 years if crofters and farmers are going to receive the kind of effective help that will enable them to properly cope with the impacts of sea eagle predation."