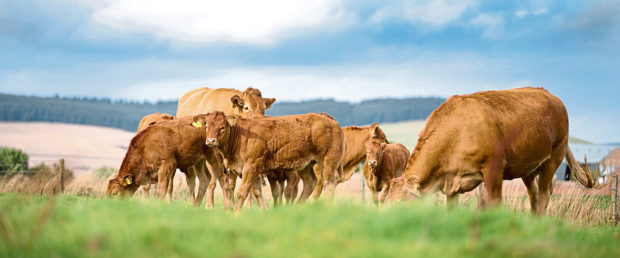 Limousin breeders will be able to select bulls which produce offspring that grow faster by eating less feed with the launch of a new Estimated Breeding Value (EBV) for feed efficiency.
A breeding value for feed efficiency, which is hoped to help farmers improve profits and reduce greenhouse gas (GHG) emissions by becoming more efficient, will soon be available for 100 Limousin sires.
The new EBV is the result of the four-year long AHDB and Defra-funded Beef Feed Efficiency Programme, which has been able to demonstrate the ability to measure and select for feed intake in Limousins.
Speaking at the Beef Expo event in Cumbria, SRUC's Professor Mike Coffey said by selecting for feed efficiency, farmers will be able to improve profits by about 39% and reduce GHG emissions by 22%.
"The prize for improving feed efficiency is enormous," he said.
"There can be a 30% difference in feed efficiency for the best and worst animals for the same growth.
On top of that, feed accounts for 60-70% of the cost of producing an animal – that's why the prize is so big."
The study involved monitoring individual daily feed intake in Limousin-sired beef cattle on four UK farms – more than 2,500 animals have been recorded to date.
The cattle were bought in as stores, and their feed intake was assessed for 63 days.
Feed troughs, featuring electronic identification sensors and weigh-scales, allowed measurements to be taken on the amount each individual animal ate throughout the day.
Cattle were weighed at the start of the trial and then weekly throughout.They were also scanned for muscle depth and fat cover at the start and end of the trial.
Researchers have been able to produce a key from the reference population, which can be used to produce genomic breeding values for all other genotyped animals.