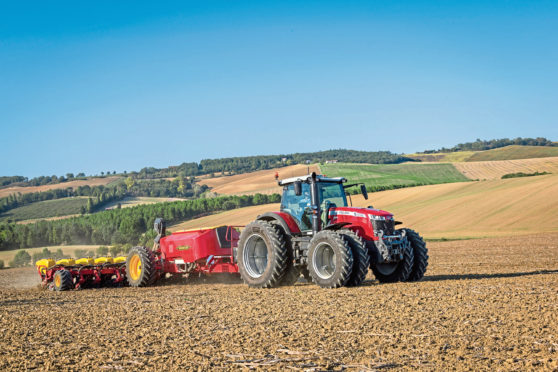 Farmers taking a look at latest versions of the most powerful tractors in the Massey Ferguson (MF) line-up will be hard-pressed to spot any obvious differences to their predecessors.
Differences include subtle changes to the lights at the front, new decal graphics along the side of the engine hood, and less obvious still, a slimmer exhaust stack.
Yet under that bonnet, the MF 8700 S series tractors have a revamped AGCO Power 8.4-litre engine that meets latest European emissions rules.
Compared with Euro Stage IV, which is equivalent to the North American Tier 4 Final standard often quoted, Stage V is a more stringent Europe-only requirement aimed at further reducing particulate matter emitted by agricultural vehicle diesel engines, especially the smallest "soot" particles said to be the most harmful.
Upgraded exhaust emissions control for the MF 8700 S series amounts to a new all-in-one solution (as first introduced on the MF 5700 S) that incorporates a soot catalyst in addition to the existing AdBlue injection and diesel oxidising catalyst that tackle NOx and other nasties.
"Greener" credentials aside, farmers using the new tractors do get other benefits. Power and torque are unchanged but engine service intervals are extended to 600 hours and there are maintenance-free self-adjusting tappets, so operating costs will dip.
Power outputs start with the MF 8727 S at 270hp "boosting" to 300hp for pto and transport applications and peak with the 400/405hp outputs from the MF 8740 S.
All have the Dyna-VT transmission that starts off 100% hydrostatic and ends up 100% mechanical from zero to 50kph, with a lower range gear for field work.