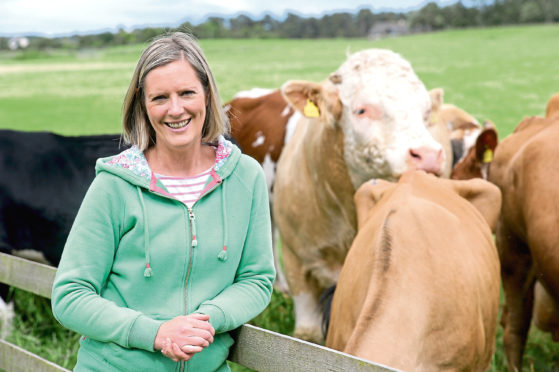 Last month's preview – 'here comes summer' – was clearly optimistic, given the many inches of rain we've had in the past several weeks.
Nick has been impatiently waiting for two consecutive days of dry weather since the middle of May so he can get on with his first-cut silage; the pit has been cleaned out and ready for almost a month and even our cheery school bus driver, Davey, has commented that the fields are needing cut.
But by the time you read this, fingers crossed, silage will be in.
In other farm news, we have been working with organisations in our local and nearby communities to link farming to food.
We were delighted to host two outreach groups from Inverness to the farm. Nick gave a guided tour of the cows and in-calf heifers, the weaned calves, the robots milking in the main shed, the milk processing and ice cream production kitchen and finally, a trip to the honesty shop to see all the dairy products.
Rootfield also seems to be becoming a popular destination for school groups on their summer outings with minibuses of pupils arriving for a small tub of ice cream and to visit the calves and orphan lambs.
Happily, the drive now has several new passing places thanks to our friend and groundwork specialist Steven, which considerably eases congestion, particularly after school and at the weekend.
On the processing front, milk vending continues to be popular at the farm and sales of ice cream are steadily increasing with the glimpses of sunshine.
Trade orders always climb at this time of year too, with volumes spiking whenever the sun comes out.
It is also traditionally the time when Rosie and the team start stocking up in advance of our two big summer shows, the Black Isle Show and the Highland Field Sports Fair at Moy.
However, Nick made the decision in January not to attend the Black Isle Show this year, the first time that we haven't exhibited there in six years.
The main issue is that these two big shows are back-to-back and this puts an incredible strain not only on Rosie and the team, who are fulfilling our usual trade client orders as well as stocking the honesty shop at the same time as supplying the shows, but the actual processing equipment.
Then, of course, there is the financial cost of attending and staffing both events. It may be a case of doing Moy one year and Black Isle the next, as they are both fantastic events and it's great to connect directly with customers.
Nick also admits he is looking forward to attending the Black Isle Show as a farmer this year rather than a food exhibitor.
That said, it will be strange not exhibiting because it's where we launched the business in 2013, so it holds a special place in our hearts.
We will always remember rolling up the front of our little white tent to unveil our unashamedly kitsch stand, ready to welcome customers to a counter full of gelato-style ice cream made with milk from just up the road.
And despite the rainbow of pastel-hued Napolis on sale that first year, from pistachio and strawberry to chocolate and honeycomb, the best seller was our Pure Milk flavour.
While Nick sweated over the quantity of ice cream we'd need to take, I had stayed up for nights before the launch thinking of a truly original name to describe and promote what is essentially the virgin ice cream to which all other flavours are added.
It was like a eureka moment for me. Pure Milk encapsulated the artisan ethos of what we were doing; taking the creamy, unhomogenised pure milk from the Rootfield herd to form the heart of our new ice cream business.
It was perfect…or so I thought.
That first year, customers were intrigued by our painstakingly named Pure Milk ice cream; some were confused, but most just thought it was vanilla.
In the ensuing years, however, Pure Milk has become synonymous with our brand at the shows, in our trade outlets and here at the farm.
It will soon be back in stock in half Napoli size (2.5 litre) because it's popular when the berry season gets under way at our nearby fruit farms, Ryefield by Tore and Robertson's by Beauly.
Another first for us this year is entering the Royal Highland Show ice cream awards in four categories, which will be judged (blind) on the 20th of this month.
We haven't entered any competitions since 2014, when we were lucky enough to win best new food product for our ice cream at the Highlands and Islands Food and Drink Awards.
We know that the RHASS competition will be particularly tough and we'll be up against veterans and newcomers alike.
It would, of course, be amazing for our ice cream to be endorsed by industry leaders; a professional pat on the back for my hardworking hubby and all the Rootfield staff who are involved from cow to cone.
I guess that's what awards are ultimately about – affirmation – and at the end of the day, we still want to make our parents proud. Happy Father's Day Fergus and Dereck!
l Next month: Holiday season.
Rootfield Farm is on the Black Isle, 10 miles north of Inverness, where Jo lives with husband Nick, a dairy farmer, their daughters Daisy and Mollie, and 170 cows.