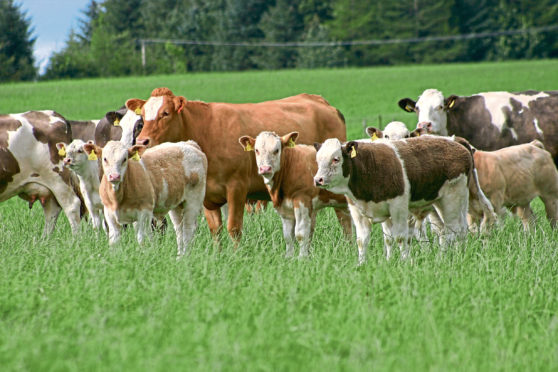 Scotland's national beef herd is still shrinking and prime beef production is likely to decline next year, according to Quality Meat Scotland (QMS).
The latest edition of the red meat levy body's Scottish Red Meat Industry Profile, which focuses on 2018, highlights the continued contraction of the national herd and move towards native breeds.
"The beef herd continued to contract in 2018, leading to worries for the processing sector which operates on very tight margins," said QMS head of economics services, Stuart Ashworth.
"A reduction in beef-sired calf registrations added to these concerns, signalling a potential reduction in prime beef production in 2020."
He said although Limousins remained the most popular sire in Scotland last year, representing 20.6% of all calves born, the numbers were down 5.6% to 114,000.
The Charolais and Simmental breeds also experienced declines with registrations down 8.4% and 5.9% respectively.
Mr Ashworth said the marketplace premium for Aberdeen-Angus sired cattle had led to a 2.5% increase in Angus-sired calves to 97,900 head, representing 17.7% of all calves born last year.
Meanwhile, a "very challenging spring" resulted in a sharp fall in the 2018 lamb crop and a smaller breeding flock last autumn.
Figures in the profile also reveal the overall volume of meat produced by Scotland's 23 registered abattoirs was up 3.5% to around 219,100 tonnes last year – this follows three years of decline.
Mr Ashworth said Brexit uncertainty continued to hang over the industry, however there was evidence of investment in the supply chain.
"While, three years on from the Brexit vote there are still a huge number of unknowns, we can take encouragement in the commitment to the future being shown by businesses operating throughout the production chain," he added.