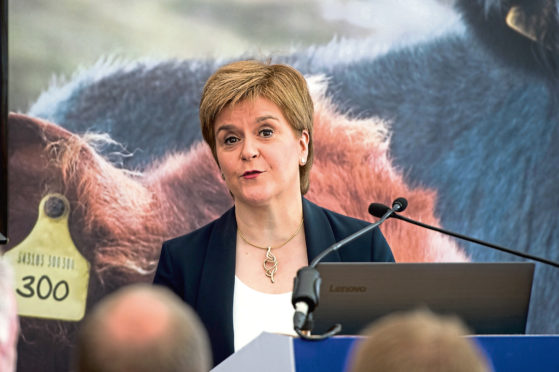 The first minister yesterday insisted the farming industry is a priority in mitigation planning for a no-deal Brexit, but warned nothing her government can do will take away from the "catastrophic" impact of crashing out of Europe.
After a breakfast at the Royal Highland Show, Nicola Sturgeon refused to elaborate on what she said were a range of mitigation plans the Scottish Government could put in place in the event of no-deal being agreed at the end of October.
Instead she said her duty was to not "kid people on" about the extent to which damage could be limited.
"It will be catastrophic," she said.
"And if I say to people we can take away the damage of that, I'm not doing my duty in saying to people it will be so serious we really need to double, triple, quadruple our efforts to stop it. That's where the priority has to be."
She revealed agriculture and food supply had been at the top of the agenda when the Scottish Government was doing detailed planning for a no-deal scenario on March 29, and said that would remain the case ahead of October 31.
During her visit to Ingliston the first minister also launched a Good Food Futures education programme designed to teach children and young people about Scotland's food industry.
It will be backed by £1 million of investment and includes support for more farm visits, healthy cooking lessons and putting more locally-produced healthy food on school menus.
She said: "Scottish produce is enjoyed across the globe and Scots work in many of the world's finest kitchens. I want people to enjoy our quality food, but I also want children and young people growing up here to benefit from it, too.
"The Good Food Futures programme will help more children understand where their food comes from as well as benefit from it in their school meals. It will also encourage more young people to consider a career in the industry.
"In introducing more of our produce to children and young people, we will help farmers, food producers, manufacturers and businesses benefit in the longer term, too."